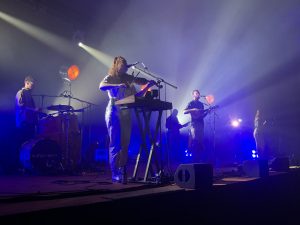 The evening's venue is tucked away on the western edge of Hackney. Accessed through an unassuming door, the renovated auditorium is enjoying its second year of a new life. After being locked up and left derelict for 40 years, EartH is a perfectly blank canvas for tonight's Andalusia-tinged soundscape of Blanco White.
Early on in the set we're lured into believing we're in an environment where our noses aren't freezing off our faces with latest release 'Desert Days', the stunning (and warm, it looks so warm, remember sunshine?) video for which can be seen here. 'The Lily', inspired by the Spanish city of Cádiz, is the first song this evening where multi-instrumentalist-and-also-actual-master-of-the-violin, Charlotte Schnurr, gets to shine. If there is a combination of two instruments more harmonious than Schnurr's violin and Blanco White founder/frontman Josh Edwards' vocals, I have yet to hear it (and would probably not believe you).
Of the array of Latin American and Andalusian instruments he's been swapping between for just over half the set, Edwards explains: "I feel like these instruments want to be sad, and that's my excuse for all these minor key songs". With all due respect, he needn't bother – we came to be sad and cold and enjoy some catharsis, and we are not disappointed.
The exodus of most of the band, leaving just Edwards on stage, can only mean one thing – an exquisitely tense sojourn through 'Sol', arguably the saddest song in tonight's repertoire. The band rejoin the stage and the mood lifts with the entry of new, Somalian-inspired 'Samara', and "probably our summeriest song" 'Olalla'. Refusing the cliché of an encore despite a standing ovation from the sold out crowd, the set finishes with 'Colder Heavens', leaving the truly heavenly sound of Schnurr's violin ringing in our ears.
Blanco White's debut album is chalked for release in April 2020, and with it brings a fresh set of opportunities to hear them live on tour across Europe.
Words and photo: Angeline Liles