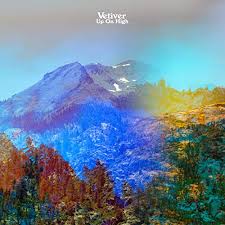 Over the years Vetiver have been a bit of a chameleon. There was a slightly Fleetwood Mac-ish tinge to Complete Strangers. Four years down the line, Up On High is a very different beast, much more of an acoustic outing with hints of steel guitar adding a touch of country to the vibe. It's a remarkable feat, because Andy Cabic and company have never felt more at home and in charge.
Opening the album with just Cabic's vocal and an acoustic guitar 'The Living End' isn't all sweetness and light, yet there's a sense that things could be a lot worse, "Cold comfort is all you find, begging for a little peace of mind, keeping one step ahead of defeat, drifting like a notion down the street." The gentleness of the entire band is part of what makes the song, and the album as a whole work.
From a cabin in Joshua Tree, they recorded the basic tracks in a matter of days. What is most striking is the way everyone works together as if they knew exactly what they wanted to do right from the start. One of the more forceful tunes, 'All We Could Want' offers a sense that it doesn't matter what's going on, Cabic may not have the solutions but he's someone that can be counted on, "When clouds roll in and the sun grows dim, who's gonna lean in closer still, show no fear? I will." 
Songs like 'Who Knows Where' immediately feel comfortable even though Cabic is dealing with the uncomfortable notion of having to prove his feelings are real, "Is there any way to prove I care, to show love's there, how can I let you know?" The prevailing acoustic nature of these songs makes them feel immediately comfortable, like old friends you've known for years.
'Swaying' feels like it could be an outtake from REM, although Andy Cabic's take is perhaps the final word, "Young love takes a trip to the desert. It's hard to resist the pull of the search for answers, or a good jangle. Never quite sure where it will lead."
Vetiver have never sounded more assured of where they are going than on Up On High. Cabic and his colleagues have approached the album with a sense of who they are and just what they want to achieve. That they make if all sound so effortless is a testament to how well they have mastered their craft.