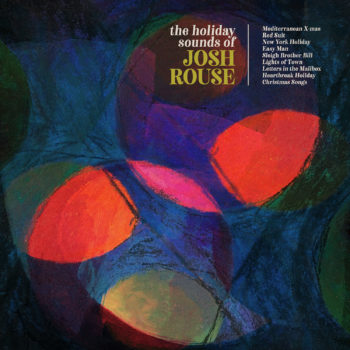 If, like me, you crave mince pies as soon as summer finishes, the gift of a Christmas album at the start of November is balm to the autumn soul. The fact it's as perky and filler-free as Josh Rouse's holiday debut is an added bonus.
These nine original songs (there are some covers on the extended version) were penned over the past decade by Rouse who was inspired to release them by touring partner Nick Lowe, following Lowe's stellar Quality Street collection.
Despite its slow gestation, the record was made in just three days in Nashville with a group of Rouse regulars and has the lived-in looseness of a well-honed band. Crisp as winter snow but cosy as a chestnut fire, it's a million miles from morose indie sleigh bell soul-dredging. We'd expect nothing less from a singer who, over 13 albums, has made small-town storytelling and melodic warmth his calling card.
Lovely jazz inflections colour the album, not least on 'Lights of Town' which shadows the famous rolling bassline of Nina Simone's 'My Baby Just Cares For Me' with woody piano and brushed drums.
Rouse spent 15 years living between Spain and Nashville and this continent-hopping sees The Holiday Sounds… shift its Christmas motifs from place to place. Jaunty opener 'Mediterranean Xmas' has him "making snow angels in the sand" while 'Sleigh Brother Bill' reminisces on Rouse's Nebraska childhood where broken bones from icy tree collisions couldn't spoil the fun, accompanied by galloping rhythm and surf guitar.
When things do occasionally veer close to saccharine, reality kicks in. 'Letters In The Mailbox' muses on transatlantic loneliness and 'Heartache Holiday' finds the protagonist returning presents post-break-up to a be-bop chorus. A desire for connection and together-ness weaves through Rouse's Yuletide tales.
The album's best, and longest track, the closing 'Christmas Songs' could have fallen from any of his previous LPs. Rouse is relocated by romance to Stockholm, pining for home triggered by Vince Guaraldi and Nat King Cole tunes. It's the sort of wistful song writing that Rouse has woo-ed fans with since the 1990s and anchors this half-hour seasonal celebration in everyday humanity. You'd be a Grinch not to enjoy this charming holiday offering.
@petebate