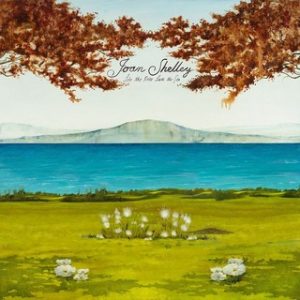 Joan Shelley tends to do things a little differently. Like The River Loves The Sea was recorded in Reykjavik, Iceland; a world away from her home near Louisville, Kentucky. Despite being thousands of miles from the world she knows, being in the company of long time collaborators like James Elkington, guitar wizard Nathan Salsburg, and Will Oldham, allowed Joan and her companions to record the entire album in just over a week and still have time to spend a day to climbing a mountain and laying in the majesty of a volcanically heated stream before heading back home.
Like The River Loves The Sea is filled with moments of crystalline beauty aching with longing. Yet there is also a large portion of this record where longing has left and things simply are what they are. With the help of strings arranged by Sigrun Kristbjorg Jonsdottir and Pordis Gerdour Jonsdottir, 'High on the Mountain' exposes the end of a relationship, "Shaded by trees and the sun sprays through, I remember when it shined over me and you."
The devastation in 'The Fading' is palpable, yet this duet with Will Oldham is also essentially gentle, "When it all breaks down, oh babe let's try to see the beauty in all the fading." By the last verse the breakup has become the apocalyptic and she's singing about the Kentucky so dear to her heart, "That's where I'll be when the sea rises, holding my dear friends and drinking wine."
Closing the album 'Any Day Now' isn't really heartbreaking or resigned. Things haven't worked out and there's a sense of inevitability. "Any day now you could go and leave me. Any day now it could be your last one. Any day now you could get that feeling that your leaving time has come." Shelley may be resigned to her fate, but it hasn't overpowered her. It simply is what it is.
While recorded in Iceland, Like The River Loves The Sea and Joan Shelley are still both rooted in Kentucky. Acceptance is one of the biggest themes to this record. Shelley never rails against the dying of the light or the death of a relationship. Understanding is the key. Even in life's most trying moments all anyone can do is accept what is.