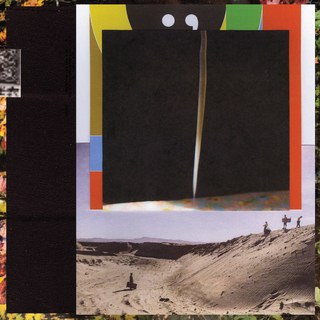 "I like you, I like you," intones Justin Vernon on 'iMI', the opening salvo of his group's fourth album. In the three years since the shadowy 22, A Million, Bon Iver's convener has achieved a hard-earned contentment  – even if he is alarmed by the national and global implosions around him. 
Vernon couldn't wait to get i.i into people's ears – rush-releasing the digital version three weeks ahead of the record's official birth-date. Describing it as the 'fall' of a four-season album cycle which started with the winter of his freezing cabin-made For Emma, Forever Ago (which really does feel like forever ago) in 2007, i,i  has a generous autumnal glow. Backporch electronics nestle with guitar, piano and largely untreated vocals as Vernon breathes in and out, anchored by the group of talented creatives who make up the Bon Iver collective.
There's plenty of soul in i,i, and fun at times too. "We have to act our ages," Vernon chides on the floaty 'Holyfields' which is the first track to boast a trademark Bon Iver rousing chorus. But there's also a laser-gun realism on the album's most immediate song 'Hey Ma' where the singer accuses: "You're back and forth with light," over a heart monitor-like bleep.
The arrival of Vernon's hero Bruce Hornsby on 'U (Man Like)' results in an energetic piano duet to die fire. Brooklyn Youth Chorus lament: "How much caring is there of some American love/When there's loving sleep in your streets?" in a spine-tingling echo of Hornsby's 80s "waiting for the welfare dime" classic 'The Way It Is'. Next up is 'Naeem', i,i's cornerstone, an exuberant Vernon caught up in the rush of life – mortality making ground in his rear-view mirror – exclaiming "I can hear crying" as drums, guitars and horns threaten to gallop away.
At times the prognosis is tell-it-like-it-is bleak. Darkness looms on climate-change themed 'Jelmore', fragmented synths wheezing as the heat rises and human extinction looms. "I won't lead no Calvary," Vernon concedes, rejecting any ill-advised Messiah complex. But the boxer climbs off the canvas on the stirring 'Faith': "faith declines/I'm not all out of mine." He may not be able to save the world but he can steady himself.
Not even a Donald Trump election hangover on 'Sh'Diah' – which sees an emotional Vernon give way to Mike Lewis' mournful, resolute sax – can defeat the sanguine outlook. "Well, it's all just scared of dying," Vernon surmises on i,i closer 'RABi'. Gratitude is the surviving sentiment: "Sunlight feels good now, don't it?"
@petebate