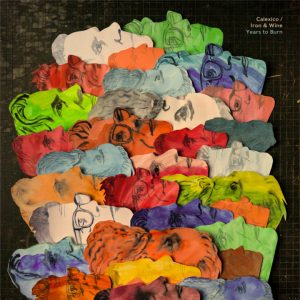 Fifteen years. So much changes in fifteen years. For Calexico and Iron & Wine, what's changed is the nature of how they record. Years To Burn is a decidedly different beast than their 2005 collaboration In The Reins. There were jokes about calling this latest record Nostalgia's A Bitch. Where the first album basically had Calexico backing Iron & Wine's Sam Beam, this one is a true collaboration.
Recording in Nashville, Beam, Joey Burns and John Covertino, along with Calexico's long time steel guitar player Paul Niehaus, trumpet player Jacob Valenzuela, plus Beam cohort's pianist Rob Burger, and bassist Sebastian Steinberg formed the record's core. Beam had already written five tunes, but this time Burns added five of his own to the mix. As a result the process became much more of a collaboration. Joey even ended up doing lead vocals on a couple of Sam's songs.
Opening the album, Beam's 'What Heaven's Left' questions the luck that has brought a lover into his life. Moving on a bed of country steel and trumpet Beam offers a blend of amazement and inspiration, "When I come to fight, you come with a kiss," before adding in the chorus, "ask me what heaven's left, I'll say nothing comes to mind."
Trumpet takes the lead on 'Outside El Paso', an instrumental that is perhaps the most experimental piece the combined forces have ever done. The next track, 'Follow The Water', returns to a more standard format as Beam sings about being buffeted by life, "every saviour needs someone to save. Two kids climbed on the roller coaster car, got rattled on the track going down around and back, whoever they were no matter who they are no ones walking off the same."
Encompassing three different tracks, 'The Bitter Suite' (comprising 'Tennessee Train', 'Evil Eye', and 'Pajaro') is more than just a tossed off joke. As Covertino describes it, "you can feel a spirit that reflects a sense of hope when times are tough." The album ends with two tunes written by Beam yet sung by Burns. The lullaby 'Years To Burn' reflects on life, the pleasures and difficulties, the connections made and those that have come undone. As Beam suggests, "Life is hard. Awesome. And scary as shit. But it can lift you up if you let it." Coming full circle, 'In Your Own Time' is one of Beam's earliest demos. Burns and Beam duet as they offer one last bit of hope, "Come meet the family and get warm by the fire, someone will catch you if you want to fall."
Time passes and life moves on, but for Calexico and Iron & Wine, their maturity makes Years To Burn a chance to rediscover two bands that continue searching and striving to make music that reflects their maturing view of the world.