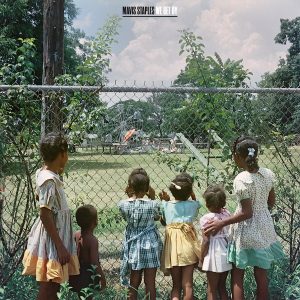 A group of black children looking through a chain link fence at a carnival in the distance is the cover of Mavis Staples' new album We Get By. The image is from a photo essay published in 1956 by Gordon Parks called The Restraints: Open and Hidden focusing on civil rights and race division in the southern part of the US. There's something striking about this cover on a brand-new release in 2019 – it's incredibly relevant, and punchy. The cover, like the album, confronts you with the reality we face in the US right now, that the racial tension from nearly 70 years ago still permeates our society.

It comes as no surprise that this album was written and produced by Ben Harper, an artist and activist in his own right. Harper and Staples previously collaborated on Staples' single 'Love and Trust' from 2016's Livin' On A High Note. We Get By takes the best of both – Staples' voice is powered by true conviction, and Harper's hooks and lyrics are catchy and classic. We can hear Harper's vocals on the track 'We Get By' and the mix with Staples is perfection.
Above all the standout track is the first on the album, 'Change'. Like all of Harper's production on the album, the instrumentation is minimal and has a retro feel, allowing Staples to shine a bright light with her vocal. 'Change' is a beacon, demanding reconciliation for the gun violence and mass shootings the US experiences every day. She challenges the listener to answer, "What good is freedom if we haven't learned to be free?" This statement soaks the album, at the back of every track and driving every passionate vocal moment.

Each track explores a traditional style of blues, gospel, R&B, or folk, but the album hangs together as a whole, framed by a unity of rebellion, all stripped down and minimal. Each track is a call to action. On 'Brothers and Sisters' Staples croons, "We belong to each other / Got to be strong for each other / Got to be brave in a scary world," punched up by choir chanting "somethings got to give." 'Stronger' is Staples' callout to her unshakeable faith, despite the darkness in the world around her. Her final track, the powerful 'One More Change' feels like a manifesto. It's Staples' statement as an ageing artist and activist, taking a stand and passionately singing "I've got one more change to make/One more chain to break/One more day to wake/One more step to take." It is a stirring close to a formidable and thought-provoking album.
We Get By is a radical call for action, packaged in a retro-tuned vocally driven package. There's a timelessness to this album that in and of itself feels like a protest. It reminds us why we all come back for more Mavis – her range is unmatchable, and her message is unshakeable. We Get By is unmissable.
Words: Haley Velletri