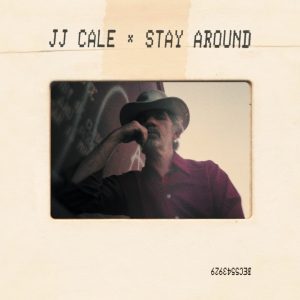 J.J. Cale should hopefully need no introduction to For Folk's Sake readers. The legendary Oklahoman musician and songwriter, who died almost 6 years ago, has had songs covered by many artists including Johnny Cash, Beck and, most famously, Eric Clapton. He even picked up a Grammy award alongside Clapton in 2008 for their collaboration album, The Road to Escondido. The songs 'Cocaine' and 'After Midnight', both high points for Clapton, were both penned by Cale.
Stay Around comes ten years after his last studio release, Roll On. It features 15 previously unreleased songs, all written by Cale with the exception of 'My Baby Blues', which was penned by his widow Christine Lakeland and first recorded by them in 1977.
'Chasing You' is a simmering blues rocker anchored by Cale's plucky guitar and tender vocals as he sings, "Walking down through the past/We thought it would always last/Things have changed somehow/It's all behind us now/Don't know why I do/I'm still chasing you". It's one of many standouts on an album laced with tenderness, heart and warmth.
His guitar playing throughout is minimal, never playing a note that doesn't need to be played. Cale was a huge influence on Neil Young, who name checks Cale alongside Jimi Hendrix in his 2003 autobiography Shakey.
Cale has long been credited with creating the laid-back "Tulsa sound", something he learnt during his musical education playing in bars with the likes of David Gates of Bread and Leon Russell. It's a sound that is most evident on tracks on this album like the title track and 'Go Downtown', an old-fashioned sounding tune about chasing a woman who is filled with "silk and grace".
My favourite track on the album arrives just after the halfway point. The simplicity and the beauty of 'If We Try', a song about holding onto the good times and remembering why you fell in love with someone in the first place, is even more poignant knowing that he's no longer here. In this collection, his spirit and power lives on and the musical landscape is undoubtedly richer for that.