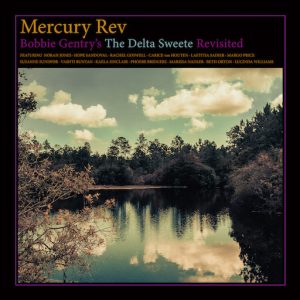 Bobbie Gentry's The Delta Sweete was largely and unjustly ignored upon its release over fifty years ago. Not so much a misstep as a miscalculation of what the world of popular music was ready for, it soared far over the heads of listeners, never cracking Billboard's Top 100. Enter Mercury Rev, who along with a cast of female vocalists, attempt to show the talents of a songwriter and artist who was unjustifiably ignored after her hit 'Ode To Billie Joe' set the radio afire in 1967.
Norah Jones opens the album with a sultry reading of 'Okolona River Bottom Band' as Jonathan Donahue (Guitar) and Sean "Grasshopper" Mackowiak (Guitar, Clarinet, Keyboards, Bass) along with former Midlake keyboard and flute player Jesse Chandler, add a keyboard heavy reading to the tune. The music tends to be as mysterious as the lyrics, bass and keys setting the tone before the piano comes into the mix, lightening the mood.
Jimmy Reed's 'Big Boss Man', one of the covers, gets a sleepy take in keeping with Hope Sandoval's oeuvre. Carice van Houten puts her stamp on Mose Allison's 'Parchman Farm', while the Revs go back and forth from sweet and sultry to something much more ominous as Van Houten sings "Well I'm gonna be here for the rest of my life and all I did was shoot my wife."
What made Bobbie Gentry's songs so unique, was their ability to tell her stories in such an off-hand way. The take on 'Sermon' by Margo Price builds with layer upon layer of keyboards, as Price recounts how what goes on at church isn't always what it seems. "Some people go to church just to signify, they try to make a date with their neighbour's wife." Following that with 'Tobacco Road' was a stroke of genius back in the sixties, however it's easy to see why it may not have been a tune that was going to get a huge audience in 1968. The version sung by Norwegian Susanne Sundfor is heavy on the bass, with just the right level of malice.
Closing the album Lucinda Willams' version of 'Ode To Billie Joe' (not on the original album, but too good for Mercury Rev to pass up) starts gently with guitars ringing. The song recounts the news of Billie Joe jumping off or being thrown off a bridge to his death. The music contains just the right amount of mystery to be compelling without being creepy.
Over the years, the reassessment of Bobbie Gentry and The Delta Sweete illustrates that there was genius at work. Mercury Rev has worked to insure this classic won't be discounted by future generations.