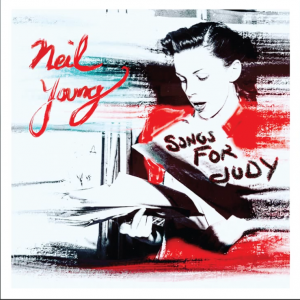 There was a time when it seemed like Neil Young could hardly help but be brilliant. Quite a long time, in fact. New music poured out of him at an incredible rate, so much of it that he cast aside entire albums, left to be discovered as lost classics half a lifetime later. And he'd shuffle on to stage, stoned and seemingly out of it, then cast a spell over his audience as the more he stripped back his songs, the more power they gained.
Songs For Judy documents many of these moments. Put together from his solo tour in November 1976, these 22 tracks showcase a performer who was in possession of more talent than seemed reasonable. The tour came just less than a year before the release of his sprawling Decade, the obscenely good 1977 compilation which demonstrated the breadth of his early songwriting.
It's clear just how stoned he is before a note is played as he assures an Atlanta audience he'd seen Judy Garland – by then seven years dead – in the pit prior to the gig, in her red dress and red lipstick, asking him how he's doing. It's a story that gives the collection a name and little more, but while other short rambles punctuate the record along the way, they only reinforce the majesty of the music between.
The songs are almost all familiar to us now – only the brief 'No One Seems To Know' is previously unreleased in any form. But to travel back in time and hear classics like 'Too Far Gone' 'The Needle and the Damage Done' and 'Heart of Gold' like this is a wonder. It's easy to forget now that many of these songs were yet to actually be recorded – 'Pocahontas' did not appear until 1979's Rust Never Sleeps, while 'White Line' had to wait for 1990's Ragged Glory. Among the highlights is 'Campaigner' – Young's wondrous political tune which appeared on last year's release of lost gem Hitchhiker and features the memorable chorus line "Even Richard Nixon has got soul".
It's hard to know where Young's extensive dig into his archives might end – Songs For Judy is the ninth live album to get an official release since 2006's Live at Massey Hall, spanning a period between 1968 and 1992. As ever with Neil, there's a risk somewhere along the way the whole thing will go too far. But Songs For Judy shows we're not there yet.