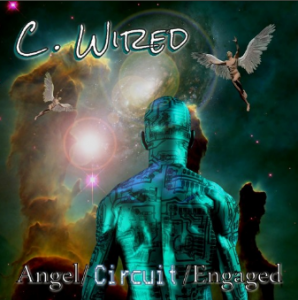 Fireball troubadour Chuck Whyard is at it again with his namesake project, C-Wired. When last the singer-songwriter hit us earlier this year with the likes of Omega, For Folk's Sake lauded his work as "multifarious" and "extroverted". He and his band's feisty new offering, Angel Circuit Engaged, is just about that all over again, but with some all-new strings attached. Wherein C-Wired dabbled in vintage rock throughout the Americana of Omega, his sophomore EP dives into it more fully.
Whether this deeper dive into the realms of unadulterated rock'n'roll is advisable or not is about answered from the start, considering the breakneck attitude with which the artist handles his newest batch of offerings straightaway. When critics call rock "dead", they've tended to only observe it from the perspective of a Top 40 landscape featuring nothing more than shimmering, sugary hooks and very singular riffs. Herein, Whyard makes crafting an ebullient atmosphere through his sound of utmost importance; the same craftsmanship with which he meticulously approached Omega, he does here, but with the aim to be more to produce a textured rock sound.
All at once, the artist calls back to old-school rock leanings without ever sounding out-of-style. Perhaps a contemporary twist in the music realm today has simply been to resurrect retro vibes to make them feel alive again, whether you're Leon Bridges or Greta Van Fleet. What C-Wired's latest feels more like, though, is timeless. Riveting rock grooves pervade the dad of four and grandpa of four more's latest, proving that the scene is just as ageless as the folk and country with which he imbued his previous release.
Words by: Jonathan Frahm (@jfrahm_)