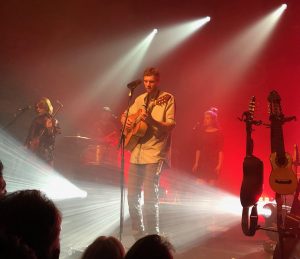 As the wool-sweatered Henry Jamison points out during his opening set, Village Underground in Shoreditch is not actually underground. What misleading times we live in. The renovated warehouse with its vaulted bricked arches is, though, objectively sold out for what is something of a homecoming show for Blanco White, the solo project of Josh Edwards. Falling at the midpoint of an autumn tour which visited the east and west coasts of the US, and from London goes on to seven more shows in European capitals, the significance of a sold out crowd in their home city is not lost on the band. Edwards offers an earnest 'thank you' at the end of every song, his humble demeanour offsetting the high-ceilinged moodiness of the venue.
Henry Jamison's support set is bare but brilliant, his songs evoking the everyday glories of suburban life and shot through with literary references. 'Boys', a song reflecting on a man's experience of toxic masculinity, features an economy of words which would make it seem right at home in an anthology of imagist poetry.
"It's hard to believe you're all here – it's amazing and a bit mad" Edwards explains during a rare moment of talk between songs. At other similar points he briefly introduces a couple of songs as being about "a few different things" and extols the virtues of the Spanish cities he's spent time in; their influence manifesting as flamenco-inspired rhythms pour through a set of minor key songs from across his three EPs – The Wind Rose (2016), Colder Heavens (2017) and Nocturne (2018). Violinist Charlotte Schnurr's accompaniments are sublime throughout, particularly on 'Outsider' and the stripped back 'Chasing Dials'. A lone Edwards plays the elegiac 'Sol' to one of the best behaved crowds I've ever been part of – you could have cut the quiet with a knife. "We're awkward about encores so this really is the last song" Edwards hastily admits, his modest frontmanship at once endearing and effective as it displaces attention instead to the textured vocals and abstract, human settings of his songs.
Words and photo: Angeline Liles