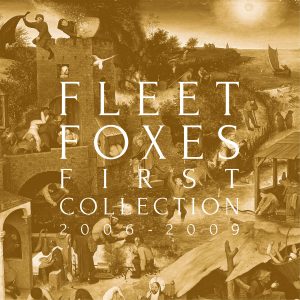 It's hard to believe that the Fleet Foxes could have been The Pineapples. But that name had been taken by another band so Robin Pecknold decided on Fleet Foxes, thinking it was "evocative of some weird activity like fox hunting." Names don't matter so much when the music hits the right notes. First Collection 2006 – 2009 compiles the initial records by a band that had a quarter of a million plays on Myspace over two months without ever having released a thing.
The recordings on First Collection represent the early moments when the recurring question was always whether there would there be enough money to get things on tape. Much of their first album ended up being recorded in Pecknold's parents' basement or in band members' apartments. The results speak for themselves. Ten years on they still sound fresh, flowing with the kind of gentle musicality rarely found on first releases. Harmonies are incredibly tight and brimming with creativity.
In addition to their initial LP, First Recordings also includes the Sun Giant EP, the extremely limited edition, self-released first EP and B-Sides & Rarities. Taken as a whole over the course of these recordings one is able to witness a band discovering their world and their sound.
This music represents the birth right of a band whose popularity became impossible to ignore. It became the first gold record for Bella Union, selling over 100,000 copies in the UK to go along with over 400,000 copies in North America. While the numbers are impressive, more impressive still is the music. Uncut made it clear, "although you could trace its antecedents, it sounded totally unique. Fleet Foxes was just a glorious debut."
Ten years on, the round opening 'White Winter Hymnal' is still fresh as the driven snow. These thirty tracks reacquaint you with the genius of Fleet Foxes, the youthful enthusiasm, their essential acoustic essence, and the way over the course of the eleven songs on their first LP go from the light of 'Sun It Rises' offers the hope that comes with the new day, "The sun rising, dangling there, golden and fair, in the sky," to the dark of 'Oliver James' "washed in the rain no longer."
No critical reassessment, First Collection 2006 – 2009 offers an unvarnished look at a band on the cusp of greatness, stepping squarely into the light for all to see. This is one journey well worth taking.