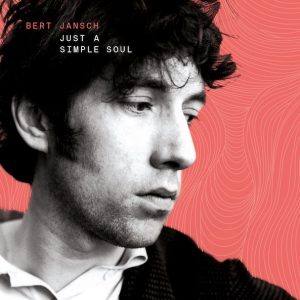 Just A Simple Soul is more than just a collection of Bert Jansch's solo work, it's a testament to his talent as one of the great guitarists of all time (Rolling Stone Magazine dubbed him as one of the hundred greatest guitarists of all time in 2003). Distilling his solo career to thirty-nine tracks fell to ex-Suede man Bernard Butler. Wisely, he chose to deal with just his solo recordings. He might never have finished if he'd included his work with Pentangle, although John Renbourn, Terry Cox, and Danny Thompson all contribute to this collection.
Beginning with 'Strolling Down The Highway' and 'Angie' from his self-titled album in 1965, this collection chronologically illustrates the depth of his genius. 'Needle Of Death' is an ode to a friend who died from a heroin overdose. 'Black Water Side' was nicked by Jimmy Page and Led Zeppelin to become Black Mountain Side, yet their arrangement was all Jansch. His label, Transatlantic, shied away from pursuing a lawsuit because of the cost and was unwilling to move forward unless Jansch took on half the costs personally, a situation he simply could not afford.
These discs also show the influence of the people who taught and played with Jansch during those early years. The influence of Anne Briggs is clearly seen in tracks like 'Reynardine', which Jansch learned from her. Ewan MacColl's 'The First Time Ever I Saw Your Face' ends up as a duet between Jansch and folksinger (and Beatle protégé) Mary Hopkin. Following the demise of Pentangle, Jansch recorded L.A. Turnaround with former Monkee Mike Nesmith producing. From that LP come 'Fresh As A Sweet Sunday Morning' and 'Chambertin'', yet even the simian touch didn't bring Jansch to a wider audience.
The ornithological side of Bert comes to the fore on 'Kittiwake' from his 1979 album Avocet, were he teamed with multi-instrumentalist Martin Jenkins and his old Pentangle mate Danny Thompson, to create a concept disc inspired by birds. It's tough to quibble with choices like 'Crimson Moon', 'The Black Swan', and 'High Days' with it's final lines, "you played your guitar but you never ever finished a song, it didn't matter then and I guess it doesn't matter now."
The picture that we get listening to these discs is that of a master craftsman able to transcend generations, remaining relevant to the end. So much music, so many songs, Bert Jansch was the epitome of an artist. As Bernard Butler's tells it, "Bert lived and breathed the guitar and its endless possibilities, for communication, storytelling, conversation, emotional dialogue."