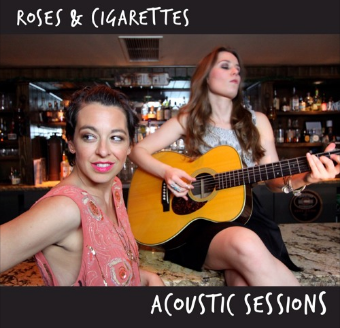 Right away, Roses & Cigarettes Acoustic Sessions feels like home. At the very least, it does to this humble writer, who originally hails from the exact windswept plains and rolling hills so eagerly expressed through sound with their forward-looking folk-rock aesthetic. Capturing a hefty chunk of what instantaneously made artists like The Eagles or Jackson Browne household names during their heydays, a particular nostalgic air reminiscent of long drives across oceanside straightaways immediately begins to unfurl before listeners within their first song's opening moments.
With an impressive opening set portfolio consisting of dates shared with the likes of Billy Bob Thornton and the Boxmasters and Marc Broussard among others, the future is looking rather bright for the duo consisting of LA's Jenny Pagliaro and Angela Petrilli. Tired of plodding around the same old covers, Pagliaro picked up Petrilli back in 2013 to form their two-woman band, all in hopes of creating stellar original music together. This new EP, though, is their first release since 2015, before recurring bouts of breast cancer for Pagliaro kept the dynamic duo off of the road for a good while.
Pagliaro has since awakened with an even fiercer soul, crediting music as her primary healer. It shows in the way that she gives herself so wholly to her performances alongside Petrilli on this EP. While Petrilli's accomplishments here should not be given any sort-of side treatment—she is a stellar guitarist and purveyor of great, infectious rhythmic motions—Pagliaro's fiery grit drives the release home. They carry a particular swagger beside that windswept Californian soul that even their aforementioned contemporaries can't quite hold a candle to, undoubtedly carving their own rock-edged contributions to their scene. They're much more than the standard pub band that tends to "rock" bars at the rate of a dime per dozen—Roses & Cigarettes are the real deal, sweet and smoky all at once.
Words by: Jonathan Frahm (@jfrahm_)