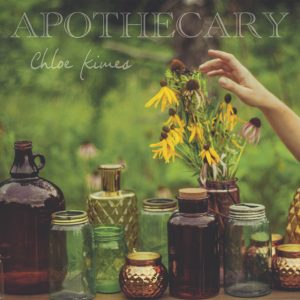 When your humble writer first came across Chloe Kimes, it was when she was singing three-parts in one of the first iterations of Awesome Distraction. Fast forward another four or five years from there and the Michigan-slash-Nashville artist has grown into her own, having written and recorded her first studio endeavor. Arriving in the form of her Apothecary EP, Kimes' vocals are as wistful and resonant as they have ever been. Redolent of youth and long summer's days by the lakeside, Kimes' breezy folk is a true pleasure to provide an audience to, those aforementioned vocals offering the perfect vehicle for her precocious songwriting to take flight.
Of course, the common detractor that all good EPs bare are their length in comparison to a good LP. We aren't receiving a full breadth of songs here by the commercial standard, and artists with an intrinsic knack for writing and performing folk tunes with as much of a reverent sweetness as Kimes will keep listeners hoping for more sooner than later. The effort, however, was very much clearly put into Apothecary's development, and it shows in that level of caring that Kimes and her team had invested into their work moment-by-moment.
The gates swing open with 'Real Good Love', instantaneously wrapping listeners in a particular warmth. Its gentle sway explodes in bursts of green, yellow, and orange instantly reminiscent of a lush garden, a sweet, innocent proclamation of love pervading the track not only in its lyricism but in how Kimes so effortlessly conveys the theme in her performance. There's a particular poppiness to the chorus that isn't overwhelming, but provides enough of a hook to remain with her audience long after it's over.
Much of what can be said about the album's opening track can be said about those to follow. Apothecary is, overall, a collection of six songs drenched in a nostalgic charm and easy-going, infectious charisma. It drips through each layer of production, from the clarity of its sound engineering to the clear passion that has gone into the instrumental and vocal performances dusting each corner of the EP's runtime.
That isn't to say that individual successes are not worthy of note. It is absolutely worth noting the soaring lilt with which Kimes carries along to a cool harmonica-centric bridge on 'Time', or with the searing crescendo she delivers on 'Medicine Man'. The pure drive pervading the lead single, 'I'll Be Going', is my personal favorite, and 'Don't Blame Me' is just as much of a charmer. The reflective, bittersweet nature of 'Sante August' offers an idiosyncratic jolt as the EP's closer that will most certainly keep Kimes' listeners crossing their fingers for more on the horizon.
All in all, it's just such a solid collection of tunes that it'll go by in a jiff and leave you wanting more. Although, if that's the case, then darn it, it's doing a good EP's job is what it's doing. Wherever Kimes ends up laying her hat in the end—or whether she ends up taking on the role of a true blue modern-day troubadour—her magical music will have no issue finding an audience.
Words by: Jonathan Frahm (@jfrahm_)