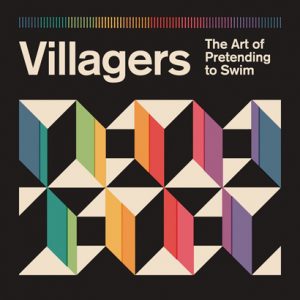 Conor O'Brien seems to be living in two worlds. The first is the folky world of his first release in 2010 Becoming A Jackal, the second a more danceable iteration from this years release, The Art of Pretending To Swim. How well he's able to merge these two worlds is the art at the heart of his new disc.
From the start it's clear that O'Brien is working on something completely new. Beyond folk there are electronic touches at play on 'Again', as an androgynous vocal sample and touches of synthesiser sway into the message of self-renewal. But he doesn't just dip his toe into the water. Electronic touches abound throughout the disc, even as he begins revealing who he is, "If I see a sing in the sky tonight, nobody's gonna tell me it's a trick of the light. May never come but I'm willing to wait, what can I say? I'm a man of the faith."
Initially, The Art of Pretending to Swim was to be an experimental side project. Along the way O'Brien suggests he "ruined it by putting words in." It's not often projects get ruined this well. He found a palette that "modernises" the Villagers sound, yet doesn't detract from what he has to say.
'Love Came With All That It Brings' is a master class in how to make the acoustic and electronic worlds come together bringing the best out of both. Just when the song appears to be getting away from him, Conor reels the song back in, reducing it to the essential elements, voice and piano.
The electronics seem to take over on 'Real Go-Getter', yet O'Brien's voice is the essential element in keeping this track focused. Part of the beauty of this track, and the album as a whole, is the way things continue to unfurl with each listen. There is so much going on that it takes several listenings for everything to sink in.
Instead of simply pretending to swim, Conor O'Brien and Villagers seem to have a firm hand on exactly where they are going. The waters may be unfamiliar, yet they are moving into a future full of unexplored possibilities.