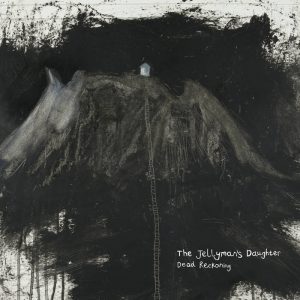 More than just a name for their second long player, Emily Kelly and Graham Coe of The Jellyman's Daughter know Dead Reckoning is a way of calculating one's current position. While not the most accurate approach, it gets the job done. In terms of the album that is definitely true. They know where they are today, having delivered an album that is a huge step forward. While both play guitar and mandolin, Coe's cello creates a unique sound. Combined with banjo, fiddle, double bass, plus a full string section, and you have a recipe for a complex aural delicacy.
The ingredients for Quiet Movie begin with Coe's cello and Kelly's voice. The full string section comes in to create a moving opening track. Taking a different tack with I Hope is a sprite, bouncy number with orchestration moving back and forth from cello to banjo, generating a Scottish-bluegrass hybrid.
The song Dead Reckoning gloriously magnifies the creativity applied to these songs. Opening with string s then stripping back to banjo and voice before strings reenter. The mixture of voices, strings, and banjo shift back and forth developing one of the most complex approaches one can expect to hear, while the opening lyrical gambit wryly suggests, "I have a theory that the truth is never told during the nine to five hours."
The Worst Of It All follows, with mournful strings playing off the essential brightness of the banjo, yet lyrically things are fairly bleak…
"Forgotten souls have nobody to blame
But what did you buy when the blood money came?
Tightening up the grip with a burning hold
Greasing up the rich to split them all"
To understand the complexity of music on this disc one need look no further than the instrumental, The Shoogly Peg. Combining the o's (banjo and cello), the theme and solo are established on the banjo before the cello takes over with a solo that illustrates the highs and lows of the instrument. Closing the album, White Shadows, fully examines the merits of these two artists, illustrating their strengths as singers and players.
Both harmonically and tonally complex, Kelly and Coe deserve huge amounts of credit for being willing to reach for the sky on Dead Reckoning, never worrying about whether their reach may exceed their grasp. It doesn't. Simply put, Emily Kelly and Graham Coe have created a disc that is nothing short of essential listening. Ignore it at your peril.
Words by: Bob Fish