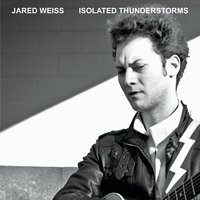 Make no mistake—Jared Weiss is a rock artist. With that said, Isolated Thunderstorm began its life as a folk record before tripping the electric. It isn't to say the album's sounding like Dylan in his heyday, though. It's more Reilly than anything if we're going to compare, but it veers more towards pop-rock than the blues. There's a folksy heart still in there, accentuated by the likes of storytelling tunes like 'Annalu (From Monterrey)' and 'Julia', but its textured production and ebullient melodies tend to drive it more towards the sonic end of the aforementioned thunderstorm than the thematic or figurative.
This isn't to say that Weiss is anything like a one-trick pony, and he solidifies that across Isolated Thunderstorm. He's a nimble songwriter, ever aware of the fact that you have to switch things up somehow to keep most listeners entertained across an album—to make it feel whole. Where the titular opener rocks with a swampy, psychedelic sway, 'Annalu' drives forward with lovesick acoustic progressions. This carries forward with 'Get Out of My Head' adopting piano-centric mathematic theatrics and 'Not Everything That Dies Grows Old' takes more of a honky-tonk arrangement to carry forward. It's a decidedly varied pop-rock ensemble that feels glued together by Weiss at its center, his lilting, sweet vocals propelling each earworm that much further forward.
If Isolated Thunderstorm were an exam to measure Weiss' weight as a songwriter, he would most certainly attain an A grade. A melodic powerhouse, Weiss can keep this storm rolling right on in. For those who are interested in hearing more of Isolated Thunderstorm, it is both streaming and on sale today.