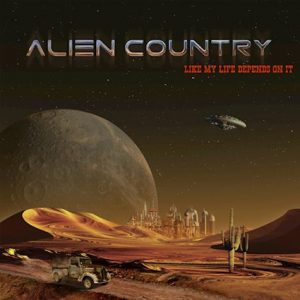 To put it simply, Alien Country lives up to its name. This much is true enough that it very nearly feels like sensory overload when you first kick Like My Life Depends On It up, and not because it's poorly mixed or otherwise bad, either. On the contrary, Alien Country's latest effort is an honorable take on classic Americana all while taking it to an ethereal space in production that this writer can honestly say he hasn't quite heard the likes of before. Liam Marcus Torres' quest for innovating the roots movement has seen them move into a similar soundspace as Sturgill Simpson, though even that comparison isn't quite on-the-money.
Like My Life Depends On It is an upping of the ante for Torres, the solo artist behind the Alien Country name. It's a purposeful delve into a world of his own machination, delivering on a unique vision to fuse the worlds of country, blues, and science fiction into their own cohesive thing. It would be easy, too, given Torres' goals with the project to discredit it as too outlandish to work. However, much like the aforementioned Simpson in these regards, he innovates in a way that is altogether brave, bold, and wholly accessible.
This much is evident from the get-go with album opener 'So-Called Friends' and goes from there. The melodious track gives listeners a taste forthrightly of what Torres has in store with Alien Country, what with a mellifluous blend of mandolin, guitar, and subtle twang dusting Martian fields of spacey production. The melody-driven, space-themed affair continues throughout much of the album, save for tunes like 'Forced Game' where he dares to push his grit a little further. All in all, it's a captivating listen, and a safe first bet for Torres in his quest to intermingle Earth's brand of Americana with galaxies near and far.