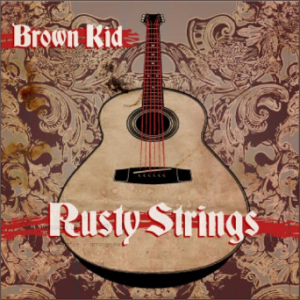 Most days, it feels like Peruvian folk artist Brown Kid's lively irreverence is more needed than ever. His new album may be titled Rusty Strings, but it never sounds like he was playing on any. Production on the singer-songwriter's newest EP is full-bodied and lush, providing more than enough ground for listeners to lose themselves in with his tunes whether they're listening through top-dollar headphones or their rental car's one working speaker. Rusty Strings, as a moniker, speaks more to Brown Kid's penchant for comedic timing in his craft—something that this writer welcomes open arms in this world's trying times.
While he's a funny guy, the songs that pervade Rusty Strings are not predominantly comedy-centric. Rather, he intertwines his knack for humor in ways that may not even be initially noticed by even the most analytical member of his audience. 'Welcome to My Funeral' ultimately sounds like anything but a dirge, but the haunting bell chime constantly fronting the song's percussion is a consistent reminder that we're giving our ear to a song told from the perspective of the dead. Even as he criticizes those in attendance from the viewpoint of his own casket, the persistent rhythm that Brown Kid invokes into his work never lets it fall too far into a depressing outlook.
He literally brings it to a party next with 'La Farra', once again playing with offbeat rhythmic timing to produce something with more of a Hispanic flair. It's a relaxed tune that plays well into the overall theme of the EP in a post-'Welcome to My Funeral' world, embracing his own worldly roots and knack for saucy storytelling. An island musicality pervades much of the second half of Rusty Strings, including on the title track itself, which features snappy percussion and a dreamy sort-of drone on behalf of Brown Kid's vocal delivery. It all wraps up amicably with 'Complacency', return to the front porch in all of our minds to send us off with an intimate, sweet, and laidback musicianship.
Even if this were not a grassroots endeavor, Brown Kid's Rusty Strings persists as a surprisingly strong release from the singer-songwriter. Each song brings its own different flavor to proceedings with a new opportunity for the artist to showcase his innate talent for producing earworms betwixt funny anecdotes and rhythmic wonder.