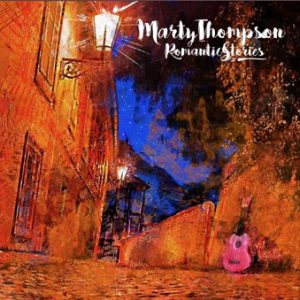 Marty Thompson's newest album was made out of a romantic story itself. At the start of a month-long family backpacking trip, Thompson couldn't decide between all of the grand guitars on sale at a shop in Munich to take with him. So, his daughter Sage did the decision-making, asking if they could pick up a pink ukulele for €9. In a stroke of serendipitous "Why not?" ingenuity, Thompson heeded his kid's advice and picked up the ukulele, not knowing then that the ten songs of which his latest, Romantic Stories, is comprised would have been written on that unsuspecting instrument.
They're not performed on that same pink ukulele in the actual mixed and mastered rendition of these tracks, which almost feels like a shame. Although, given, Thompson may not have conveyed quite the same tone of atmospheric rock that he had intended if he did pick up the instrument for an actual go in the studio, so it's understandable. It's an interesting album from the tip-top to the very bottom, too, featuring a swath of various era-based influences from rock'n'roll's past and present alike.
We start off with 'A Thud', which features an ebullient horn section and rhythmic sway reminiscent of ska before quickly descending into rollicking Americana, tunes with a Springsteen-esque swagger, and even the jazzier side of things with playful tunes along the lines of 'Anymore'. So, there's a veritable smorgasbord of material for listeners to gather 'round here, and each of them feels as coherent in the grand scheme of things as the last. That's what you get from an experienced jam band member that somehow managed to wrangle up even just one of these songs on a cheap uke, let alone all ten of 'em.