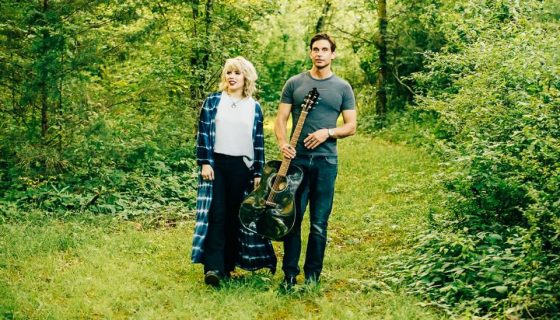 With their debut EP, Nocturnal Blonde is making a statement. Even if it wasn't that the band are raising their fists in remarkable protest or delving deep into particular personal ventures, their sound alone innovates on a basis that few Americana projects have. Taking cues from Pink Floyd and the Cranberries, Nocturnal Blonde weaves elements of classic rock into their music alongside blues and folk vibes—and all in entirely cheeseless fashion, at that.
Albeit, there is a righteous aim here, as well, and that is for Nocturnal Blonde's music to have a positive effect on raising awareness towards what damages substance abuse could cause. The band was founded by vocalist and guitarist Ritchie Williams, whose brother, David, sustained significant neurological damage following an overdose last year. Joined by bassist Kevin Sims, percussionist James Owen, and frontwoman Rachel Adams, Williams was able to bring his passion to help others to artful fruition with the creation of Nocturnal Blonde.
The five songs adorning Smart Heart were all written by the Williams brothers prior to the incurrence of David's medical difficulties and show the intuitive sensibilities of both as songwriters. Initially, what it feels intent to prove is that prog rock most certainly isn't dead, but has evolved in ways that we could not have surmised. Despite its progressive origins, Smart Heart plays its cards in a more understated fashion than its predecessors, invoking jazzy guitar licks and blues and folk-driven rhythmic functions along the way. Grace's layered, honey-sweet vocals prove to be the perfect vehicle for these slow-burning, and palatable forays into this new age take on rock, too, resonating with a continuously listenable step song-per-song.
Like Pink Floyd before them, Nocturnal Blonde ooze power and attitude without sacrificing a strand of empathy or heart. Additionally, like Fleetwood Mac, the band takes the gambit by infusing rootsier elements into their music and end up winning out. Albeit, there's something decidedly their own about Nocturnal Blonde that makes the band so infectiously listenable, too, perhaps in the inner workings of Ritchie Williams' mind that set this whole shindig rolling. Whatever it may be, Nocturnal Blonde is great, melody-driven Americana music that is well worth the listen.
"Our first album will be a tribute to Ritchie's brother, Dave, and dedicated to bringing awareness to the opioid epidemic so many families are forced to deal with today." – Nocturnal Blonde