The Flaming Lips have never been a band to do anything halfway.  They've released records encased with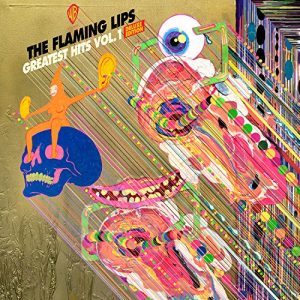 their own blood, and for Record Store Day 2018, they pressed albums with their Dragons & Yum Yums brand of Dogfish Head Ale inside the LP. So it should come as no surprise that their Greatest Hits album could not stop at just one disc, they decided to release three (although Warner Brothers also released a vinyl version with just 11 songs).
Starting with their first offering for the label in 1992, Hit to Death in the Future Head, this compilation not only tracks all the highlights of the past thirty-five years, the third disc compiles an incredible list of rarities, including 'Enthusiasm for Life Defeats Existential Fear Part 2', which was imbedded inside a gummy fetus.  Another highlight, 'Noodling Theme (Epic Sunset Mix #5)', where Wayne Coyne's vision of the film for which he was providing music didn't match up with the reality of, "a weird kind of fishing where guys use their hands instead of rods and hooks."
Zaireeka, the Lips experiment in creating a surround sound mix based on playing four CDS simultaneously is represented by 'Riding to Work in the Year 2525 (Your Invisible Now)'. The idea was to have each of the discs start simultaneously (no easy trick since you have to use four different audio players), with the errors in synchronization creating reverb or echo being heard on one disc before it is heard on another disc.
Breaking through to the main-stream (or what qualifies as the main-stream in the world of the Flaming Lips) The Soft Bulletin features four tracks including 'Waiting for a Superman (Is It Getting Heavy)'.  Mining the movie soundtrack, Stubbs The Zombie, their version of 'If I Only Had A Brain' alters the original lyrics slightly. Coyne wryly singing, "life would be a dingleberry" instead of Kip Harburg's original, "life would be a ding-a-derry."
Covering their beginnings as guitar-oriented crazies, through the ever-shifting cast of characters and content, the Flaming Lips have never been less than fascinating. With music from every phase of their Warner Brothers career to date (including tracks with Miley Cyrus and other heady fwends) this set works overtime to give listeners a comprehensive picture of the weird and wonderful world of the Flaming Lips. Completests may argue about the inclusion or exclusion of certain tracks, yet this compilation is an exceptional sampling of the Flaming Lips universe.