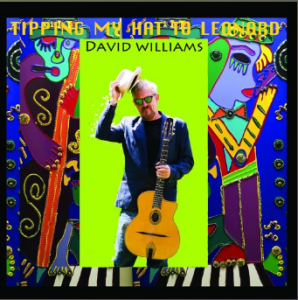 If you're reading this, chances are that you know of Leonard Cohen. Ever since his emergence as an artist over 60 years ago, he has garnered respect from the folk world for his poetic and evocative songwriting. It would be hard to imagine a grand hall of contemporary music where 'Hallelujah' or 'Suzanne' are not decorating its more soft-spoken halls, or where You Want It Darker isn't lavishing in dusk and irony at the final cornerstone of his notable career. In a sense, we've all been tipping our hats to this prolific songwriter, poet, and novelist for decades, but few of us can say we are as dedicated to the cause as David Williams.
Juxtaposed against 21st-century Nashville, Williams emerges from a world of countrified glitz and glam without a single chip on his shoulder. He goes against the grain of sugary pop production, sure, but without a single irreverent bone in his body. Rather, he's simply hoping to pay respects to the greats who have laid roots music's infrastructure down over the past several decades. By its title, Tipping My Hat to Leonard gives us a man of the hour to keep in mind, but Williams musically tows a line between folk, gypsy swing, and the blues that'll remind listeners of Cohen as much as it might Tom Waits or Randy Newman.
The titular track is also the opener. Coming in at just under six minutes, it should be clearer than ever that Williams isn't looking to put out a radio-ready pop jam as soon as you rip off the packaging and pop this album into the player. Meshed together with his own crooning grit, Williams inhabits 'Tipping My Hat to Leonard' with an old-school soul that balances the folk and blues that have made him expertly. All the while, we're given our first good, long dive into what truly makes him as a songwriter. It's evident straightaway that Williams' inimitable artistic character oozes from his heart.
The sort-of fusion Williams works with between the folk, blues, and gypsy works wonders, here, too. It isn't your run-of-the-mill, stapled-together brand of genre-bending that claims to innovate but sounds just like the next Allman Brothers cover band to somehow make it out of the bar scene. This is bonafide songwriting with a wistful heart at its center, and Williams makes it work as a troubadour and showman without bringing any cheese to proceedings either. The sardonically-titled 'Who Let the Django Jazz into the Room?' follows up our title track and fits every bit into its place on the album as the first track, with Williams producing a swinging duet with Ellie Brown along the way.
Swirling with strings of all sorts, trumpet, clarinet, and percussion, Williams has put together one heck of a roots band to help put his latest on the map. In some ways, his music is an ode to those who have passed and laid out the groundwork for him. In others, his old-school take on folk, blues, and jazz feels like a new-world innovation when just about everything else is submitting to overproduced, messy hooks. This is what the heart of American folk music sounds like, and Williams is more than capable a ferryman to keep bringing it to his audiences.