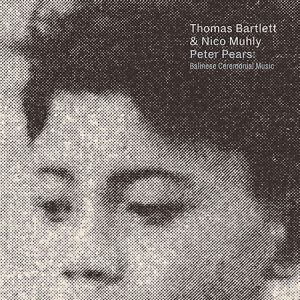 The inscription on the imaginary doorstep leading to this record should read: "Have no fear, ye who enter here". No 12-minutes long sessions of gamelan and drones are waiting beyond, but the vague fascination of two well-acquainted musicians for the studies of Colin McPhee of the popular music of Bali, which gives this record a very faint "world" undertone.
Other than that, those who don't know Bartlett's songwriting work as Doveman (or with Irish folk music's supergroup The Gloaming) may to some his most famous production works ('Carrie & Lowell' above all, but he has also collaborated with The National, 'Boxer' period). Nico Muhly, a true neo-classical music composer, is also connected to a very similar and overlapping set of artists and bands. Most importantly, the two have been working together since college times.
The typical minimalist sound of Doveman's records (think of his work with Sufjan Stevens' music) is here 'overtaken' by the more colourful, if sparse, orchestration by Muhly. Strings, piano or piano-like instruments and minute electronic beats and sounds seem to float and wander as spirits around Bartlett's 'sighing' voice.
The connection with previous scholars and artists and composers bringing Balinese elements into their music, from Peter Pears to precursor ethnomusicologist Colin McPhee, shows in two ways. Firstly, directly, as two excerpts from McPhee's transcriptions appear in the record. Secondly, a more spiritual link. The musical tradition McPhee was studying appears, sometimes with a lot of manipulation, until it is almost a refraction, a remembrance, but also with palpable honesty – for instance, when Bartlett rearranges a song from his past material ('Valentine').
There is a naiveté to the songs that dates back to the times the two were simply two college students playing with music and that is amplified by Bartlett building lyrics from the baby books of his own childhood. In the end, an elementary spirituality emerges from the record, not far from the ones you can gather from Sufjan Stevens' or, in some cases, Antony's records. This is the greatest accomplishment of the record, and it comes from sound and arrangements working together.
In terms of songwriting, the songs seem to work outside the boundaries of melodies and themes, interacting with the arrangements in unconventional ways. The record is rich in emotional content, but of an undefinable quality. No single emotion can be associated with a song, possibly aiming at its blissful absence. Instead of letting the record diverge, all of this creates an enviable unity of purpose, a distinct personality which lets Peter Pears: Balinese Ceremonial Music become an object of extreme preciseness and brightness.
Words: Lorenzo Righetto