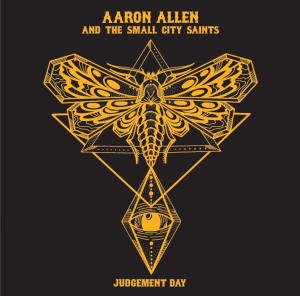 There's a revolution underway in country music, and Aaron Allen is doing his part. On his latest album, Judgement Day, the native of London, Ontario, Canada shows his solidarity with artists such as Chris Stapleton, Sturgill Simpson and Jason Isbell in bringing country back to songs about real life and real people.
Although Allen reveres country music's legends, he isn't by any stretch a traditionalist. With much of his body inked, he doesn't immediately resemble most people's image of a country singer. But from the moment he kicks his band into gear and launches into one of the new album's standout tracks, "Rambling Man," there's no questioning his authenticity or conviction.
Judgement Day was recorded at London, Ontario studio The Sugar Shack with Allen's Small City Saints – guitarist/producer Dan Brodbeck, drummer/co-producer Archie Gamble, fiddle player Tara Dunphy (from The Rizdales), bassist Simon Larrochette (formerly of Olenka and the Autumn Lovers), pedal steel guitarist Doug Johnson, mandolin player Blair Heddle (also from The Rizdales), and organist Michael Bonnell.
Utilizing a spontaneous live approach in the studio perfectly complements Allen's plainspoken writing style, which digs deeper into country music's familiar themes on songs like "Whiskey On My Mind," "Cold Shoulder" and "Runaway." Although in the past he's often been compared to Steve Earle, Bruce Springsteen and cult hero Chris Knight, Judgement Day finds Allen boldly staking out his own territory by drawing from his own experiences, particularly on the aforementioned "Rambling Man."
With Judgement Day, Aaron Allen now begins a significant new stage of his own ride, one that's poised to add his name to the conversation about Canada's best new roots rock artists.
Words by: Jason Schneider