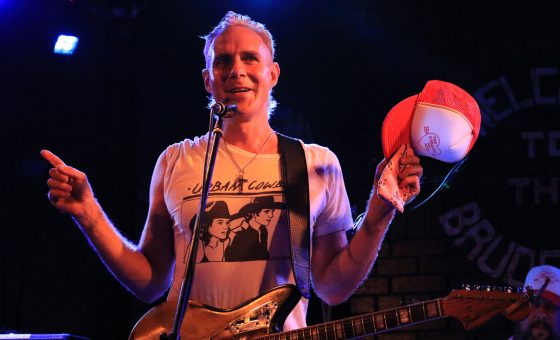 The beard is gone. The hair, hidden below a trucker's cap bearing the name of his new record, is an unfamiliar bleach blond. And the acoustic guitar is still in the back of the tour bus. At first glance, you probably wouldn't recognise Josh T. Pearson as he wriggles his way on stage at the Brudenell, strapping on a Fender and nervously jiggling his hips as this famously loquacious live performer works out what to say to start the show.
He settles on a disclaimer. After a string of solo shows over in the United States, Pearson is starting a European tour with a full band behind him. "We might need some time to iron out the kinks," he says before they launch into the raucous three-minute barroom rock of 'Straight To The Top'.
Anyone who caught his last show in these parts might wonder what on earth was going on. Where was the Pearson who wrote 2011's heartbreaking Last of the Country Gentlemen, a tormented break-up album of 10-minute long acoustic confessionals? "This is the new JTP," he tells us. "Once you get to know him he's a nice bunch of guys."
He says it with a laugh, but it's probably as close as you'll get to unlocking the real Pearson. In the space of 17 years he's delivered three albums – 2001's mind-bending Lift To Experience record The Texas-Jerusalem Crossroads, the stark Last of the Country Gentlemen which followed a decade later, and now, seemingly out of nowhere, The Straight Hits. The concept of the new record reads like something of a joke – 10 songs, all with the word 'straight' in the title, written in three days and committed to tape just as swiftly. At the end of a seven-year wait, fans might have been expecting Pearson to spend longer than a week crafting the follow-up to such a deep and affecting record as his solo debut.
But The Straight Hits is the sound of an artist ignoring expectations and freeing himself from the shackles. Tonight's set list is a mix of new and old material, no matter how surprising that seems given the stark contrast in styles. And amid his jokes, you can tell how much those painful older songs still hit Pearson every time he sings them. One minute everything he does on stage feels like an act, the next it all feels startlingly real.
"Those of us born in the 1970s, what a time to be alive," Pearson says midway through. "All those great rock stars and there was still some mystery. Now we have all the answers in the palm of our hands thanks to the great oracle." But search all you like and you can only find clues – not real answers – as to who this man is. Is he the space cowboy of Lift To Experience, the bruised preacher of Country Gentlemen, or the roadhouse rocker that started the show? The answer is probably all three. "This is the new JTP," he repeats. "Once you get to know him, he's a nice bunch of guys."