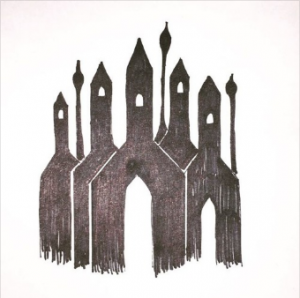 From its opening moments, Aya Maguire's The Sandcastle King is instantly entrancing. It hasn't been all that long since the Boulder singer-songwriter began turning out music, with her first EP (Fireflies) debuting last July. Yet, her newest output already feels leagues more developed than her first. This isn't to say Fireflies was a bad collection of songs; on the contrary, it's a set of beautifully plaintive folk music that this publication's audience would positively devour. It's just that, backed by a full band of instruments, the evocative nature of Maguire's sophomore effort is undeniable.
On a number of The Sandcastle King's songs, Maguire flirts with more traditionally folk melodies than most may. This much is evident straight from the get-go—think somewhere in the realm of Kyle Carey's "Gaelic Americana" tunes, though more richly earthen. This is music that feels entirely "of the hearth", finding beauty in a straightforward, rootsy musicality that allows Maguire to soar. Her rich tone wraps itself like vocal honey through the stories she sets forth on, even as the album musically evolves to embrace more contemporary elements as it goes on.
With an album date still set a fair bit away (2018 July), there's only so much that can be said about The Sandcastle King. Albeit, as a review this far in advance, this writer can at least express that it is his humble opinion that the album should be on everyone's list to check out as soon as it's out. Furthermore, there's really no wonder why Maguire had gone through a successful Kickstarter campaign to get here. In this genre and movement, evocative storytelling is a must, and she does not disappoint from this angle nor with her adeptness as a developer of fine music. This is gorgeous, accessible, full-bodied folk music. In the meantime, we can share her Fireflies EP with listeners for them to get a taste of this artist's work.