Lookman Adekunle Salami has already been given the Bob Dylan Curse. For those who consider him to be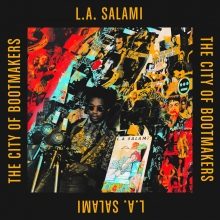 the "next Bob Dylan" the question really is why can't he simply be the first L.A. Salami? Based on The City of Bootmakers that's really all he needs to be. Over the course of 14 songs in 55 minutes, the man covers a lot of ground, from terrorism to England's health. And that's just in the first seven songs.
Originally The City of Bootmakers was intended to be a double album. One being The Bootmakers, a band oriented disc; while the other, Back To The City entailed, "the sound of lying in the gutter at the carnival in the mud looking up at the stars." Over time the two discs merged, creating something far more intriguing. While Salami may be a Dylanesque folk singer, his method and madness examine themes Mr. Zimmerman hasn't touched in almost a decade.
Life is messy and so is L.A. Salami. The world he scrutinizes examines all those complexities. 'What Is This?' confronts the mundane that actually keeps us from losing our mind, "The preachers remind you that the end is near, but the rent date's coming, so the end can wait." Shortly afterward the song breaks open, rocking out before a stiff-upper-lipped British politeness re-emerges to close things out.
Backed by The Bootmakers, a U.K. based Swedish band with Simon Nelsson on guitar and keyboards, Petter Grevelius on guitar, bass, organ and vibes, and drummer and organist, Sean Beam; Salami explores a changing world in a major key. Addressing the notion of feeling lost while trying to find oneself during 'Generation L(ost)', hope rings through, "I'm tasteless but I can charm a beer. They say that it's hopeless, but I'm still here."
Using a palate incorporating colors rarely seen on "folk" discs, The City of Bootmakers gives us a kick in the collective posterior. 'England Is Unwell' looks at the country with a jaundiced eye and a Ray Davis music hall aplomb, while 'I Need Answers' poses questions without answers. For Lookman Adekunle Salami the search is just as important as the solution.
At the end of the day, L.A. Salami is no more the next Bob Dylan than Jakob Dylan is. Ultimately he is something unique for this particularly insane moment in time. Revel in that because The City Of Bootmakers fills this moment spectacularly.