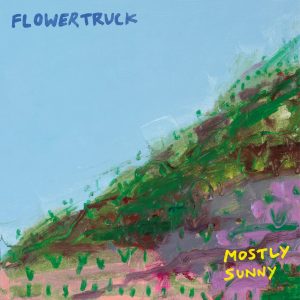 Belonging to a very specific scene can be a double-edged situation: everybody knows what to expect from you in terms of sound and style; also, especially when this scene is very localized (in time and/or space), there will be a few acts that still represent the unmovable musical archetype.
Australian jangle-pop, with its New Zealand counterpart, is one of such examples: a scene which is still thriving nowadays, but has to be placed at the time of 80s jangle-pop. After the great bands of the past (the Go-Betweens, the Triffids, the Church, the Apartments), the scene basically never died, passing the same flare through generations (in this case, literally, as in the case of the Goon Sax, starring Robert Forster's son).
But this is a misleading train of thought, because Mostly Sunny is not a predictable listen. In particular, the drive in their songs is truly exceptional. It often makes you think that, if some of the historic Australian bands had had an ounce of Flowertruck's boldness, they would have been as successful as the Cure, or A-ha.
This is partly due to the frontman's charismatic delivery, but mostly to the character of the songs and the neatness of sound and execution. In the latter sense, Mostly Sunny does stray away from the lo-fi scheme, for a probably more appealing retro-wave sound, with bold synthetic arrangements ('New Is The Saddest Word', 'Falling Away', à-la Joseph K anxiogenic 'Falling Asleep'). In the former sense, precise, sticky hooks and Hamish Dobinson's moody vocal performance make for an incredibly fresh sounding record ('Komichi', 'Dying To Hear').
Mostly Sunny is probably the most ambitious record that has come from the Australian jangle-pop scene in the last few years. It is an album that never hides, and that sounds much more 'classic' than expected: 'Come Across', 'Enough For Now' all sound like coming from a mid-80s hit parade. And this is, possibly, exactly what Flowertruck were looking for.
Words: Lorenzo Righetto