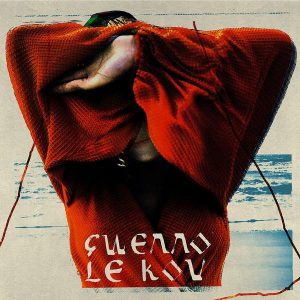 There are records which, from the moment you start listening to them, let you enter their unique world, connected but different from the real one. This pervasive feeling cannot but come from a very clear, honed by time and work, aesthetic vision, and of course a great inspiration.
For those who don't know her, Gwenno Saunders was notably a member of Pipettes, replacing Julia Clarke-Lowes when she founded the Indelicates with her husband Simon. After the Pipettes split in 2010, she has been working as a touring musician and has also published her debut album, Y Dydd Olaf, sung entirely in Welsh (by her mother) except for the closing track, which was in Cornish (by her father). This latter tongue is the idiom that permeates Le Kov, as all songs relate to Cornish landscapes and characters, in the effort to give value and richness to differences.
This is reflected in the musical spirit of the record: you might think that this is some kind of generic Celtic-sounding/traditional tribute to a people, or a land. On the contrary, while not being incredibly and unnecessarily novel per se, especially if you are familiar with the electro-sparkled, psychedelic indie-pop of Stereolab and Broadcast ('Aremorika', 'Eus Keus?'), Le Kov is a very forward-thinking album, that mixes genres and sound eras.
You can skip from the electro-harpsichord lullaby 'Hunros' to the Gruff Rhys-inspired ironic mantras like 'Daromres y'n Howl' (Gruff also sings in the song), or even to the ambient-pop soundscapes of 'Herdhya'. But, meanwhile, keeping in touch with a more melodic side, that emerges in the Kate Bush vibes of many songs ('Koweth Ker', 'Den Heb Taves'), or in the parallel with the dreamy and elegant pop of Swedish artist Anna Jarvinen ('Hi a Skoellyas Liv a Dhagrow').
It is clear, overall, that the investment of time and thought on this record has been considerable – all ingredients of a great record are in place: long-lasting, unique songs ('Tir Ha Mor', 'Den Heb Taves'), an evocative and deep soundscape and also a compelling narrative.
Words: Lorenzo Righetto