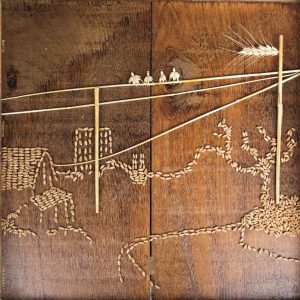 For nearly two decades, singer/songwriter Jenny Mitchell has been regarded as one of the most original voices within the Canadian indie music scene, and her latest project, Bird City, is her most personal yet.
As a beloved fixture of the music community in and around Guelph, Ontario, near Toronto, Mitchell has been a member of the Barmitzvah Brothers, the Burning Hell, Richard Laviolette and the Oil Spills, as well as performing under her solo alter ego Jenny Omnichord. Bird City is in many ways an evolution of the last concept, with Mitchell trading her Omnichord for the banjo and tenor guitar. Focusing on these instruments finally allowed Mitchell's songwriting talents to fully blossom, and the exposed and poetic songs of paranoia, heartbreak and self-examination on Winnowing, the debut Bird City album, encapsulate the last 15 years of Mitchell's life.
Mitchell crafted Winnowing over a three-year period with producer/engineer Scott Merritt, with a host of notable friends contributing. These included Bry Webb (Constantines), Nathan Lawr (Minotaurs), J.J. Ipsen (Jim Guthrie, Two-Minute Miracles), and Merritt himself on a multitude of instruments. Tying it all together is Mitchell's musical vision of creating out-of-body experiences through stark fragility, no matter how many instruments are on a track.
In this respect, Merritt proves to be the ideal collaborator, as he was able to preserve the exposed roots of each song while helping Mitchell guide the players through the arrangements. It was a way of working that Mitchell had never experienced before, and in some ways a terrifying one, given that she had been carrying many of these songs with her since the early 2000s. Among them is the song "Bird City," which for many years was just a set of lyrics that Mitchell found impossible to set to music.
Elsewhere, the subject matter of songs such as "Hours" date back to encounters she would regularly have with transient people passing through Guelph, chasing dreams or fleeing demons. Other songs such as "Ticket To The Show" celebrate the gatherings she would regularly hold at her father's thrift store during the '00s, while "Salvage Diver" (another older song) pays tribute to her grandfather, known for finding several previously undiscovered Lake Ontario shipwrecks. But it's the songs that touch on the struggles of relationships and motherhood, such as "Growing Too" and "It Wasn't Easy" that make the deepest impressions on Winnowing, and firmly shed Mitchell's image as a "quirky" songwriter.
Indeed, Jenny Mitchell remains one of Canada's great unsung musical treasures, and now as Bird City, the full range of her talent is on display. Although she likes to describe her work as "tiny songs," Winnowing is a towering achievement for an artist just beginning to get the recognition she deserves.
Words by: Jason Schneider