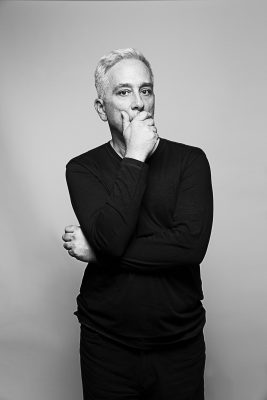 Patrick Ballantyne is known in Canada as a "songwriter's songwriter," known for collaborating with such artists as the legendary homegrown blues-rock combo Big Sugar, as well as The Trews, Tim Chaisson and others, helping to create a formidable catalogue of radio staples over the past two decades.
However, it wasn't until 2008 when Ballantyne began releasing music under his own name, and now with Calendar—his third solo album—he proves definitively that he belongs in any conversation about Canada's great contemporary singer/songwriters.
The concept behind Calendar actually grew out of Ballantyne's tireless craftsmanship; in 2015 he embarked on a personal challenge to write and record a new song from scratch each month. When revisiting his output the following year, he recognized how these tracks could be brought together.
With sounds encompassing everything from pop to Americana to psychedelia, Calendar presents the most well rounded picture of Ballantyne's skills to date, all tied together by his honest, and often heartbreaking, storytelling ability.
Your new album Calendar is a collection of songs you wrote and recorded over the course of a year. What inspired you to make an album that way, and what did you learn about your creative process?
Calendar began as a challenge… and, yes, alcohol was at the root of the challenge. A few friends and I, over a liquid lunch, thought it would be a great idea, and during that lunch, I was able to secure [the web address] "hitamonth.com" and I was off. As for what I learned—I find writing songs relatively easy, at least it comes naturally to me. But recording, mixing, mastering, individual artwork for each song, promotion for each, and all within a week or so of the last song, it became a true challenge. It required a tremendous amount of focus, over the course of the year. But with some great help of Matt Connell at Northwood Records and my engineer Mark Plancke of Sharktank Productions, we pulled it off—and I believe the quality of the work was pretty good. With the benefit of time, I decided to clean up a few things that slipped through in haste, then pull the songs together into an album. Thus, Calendar was born.
You also write songs for other artists. Do you view your solo work as an opportunity to be more experimental?
As a rule, the songs I release myself are songs I believe are either less obviously commercial or a bit too personal for another artist to cover. I'd love to be proven wrong, as I always welcome artists covering my work. The songs are here for the taking. I typically take more chances with my solo work. More accurately, I'm a bit more self-indulgent. The sitar loops, drones and slide guitar on "Fore the Harvest Comes" was just a reflection of my love of the Beatles, and in particular the eastern-influenced George Harrison material. "Mirror Mirror," which combines personal insecurities, cockiness, and God, is not a lyric you would normally hear on Top 40. But it's still catchy enough that you can sing along!
What inspires your writing most at this stage, and can you give examples from Calendar?
I have no specific idea what inspires me—never have. I've loved music ever since I was a very young child. When I learned how to play the guitar at around age 14, I immediately started writing my own songs. I guess I wanted to be John and/or Paul and/or George and/or whomever I was enthralled with at the time. I never felt a need to express myself through music but I guess that's exactly what I've been doing for a very long time. I mentioned "Mirror Mirror"—it's almost a stream of consciousness lyric that, after I wrote it, contained a few truths about me. But I didn't start out wanting to do that, it just happened. Other songs like "Close Your Eyes" and "Plans" I can tie to a specific event or person in my life. But rarely do I start by saying, "I want to write a song about so and so." Sometimes, I just like the way words sound together.
You're from Windsor, Ontario, next to Detroit. What effect did that city's music scene have on you?
Detroit and Windsor radio has had a deep impact on my songwriting. In the days before "Canadian Content" rules were imposed, [30 per cent of music played on Canadian radio had to meet a definition of "Canadian"] the big local Windsor radio station was CKLW, which had a deep reach into Detroit and beyond. It was instrumental in breaking so many of the Motown hits. But more importantly, the Top 30 included an amazingly broad range of musical styles. You'd hear Andy Williams, followed by the Four Tops, followed by Louis Armstrong, followed by the Beau Brummells followed by The Yardbirds, then Sinatra. I didn't distinguish between musical styles—a great song was a great song. To this day, I'm not concerned about styles or genres, I'm only interested in whether it's a good song. Radio, has of course moved in a much different direction since then.
What's your best advice for budding songwriters looking to collaborate with other artists?
Have big ears. Listen. Absorb. Let the music you love inform the music you create. Keep an open mind—there is no right and wrong in songwriting. Don't chase fashion. Be prepared to compromise for the good of the song. And don't listen to advice!
Words by: Jason Schneider