An Englishman with a fascination for Americana, Alexander Shields mines a haunting seam of shoegaze.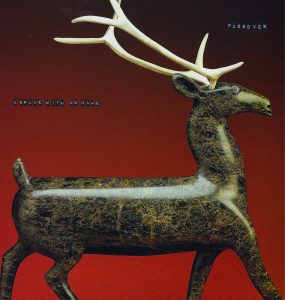 Having worked with a larger ensemble on his last album, including members of Silver Jews, Lambchop and William Tyler, for Passover he's recorded with childhood friend and drummer, Daniel Paton and bassist Ben Reed as the core band.
Written at his childhood home following the death of his grandmother, Passover is haunted with images of mortality and family, while questioning the comforts of religion and ceremony. Quite often the musical bed is so slight it threatens to blow away in the breeze. Shields guitar parts are simple but perfectly pitched to the themes at hand.
Atmospheric elements, found sounds, and bits of ambient noise are blended into the fabric of the songs, creating a hybrid both unexpected and previously unexplored. Less challenging than fascinating, these elements create an internal logic rarely experienced in a folk or Americana context outside of folks like Bon Iver. Their inclusion provides the songs with a ghostly, chilling effect.
'Blunt Knives' treads an elemental edge being one of the biggest sounding tracks on the album, while also being one of the smallest sounding when pared down to just Shields and his guitar. More than just a trick conjured up in the studio, this is an example of the careful crafting and thought that has gone into the presentation of this material.
Described by Shields as a collection of "interlocking short stories," Passover plays in four distinct stages divided by three shorter instrumental tracks. At turns harrowing and horrifying, the sounds of fingers squeaking on strings generate a haunted kind of intimacy to Kitchen.
For music made by a simple, three-piece band, A Grave With No Name have created an incredibly diverse sounding album, one that challenges the expectations of what music can be. This is an album that justifiably should appear in 2018 recaps of the years best!
Words: Bob Fish