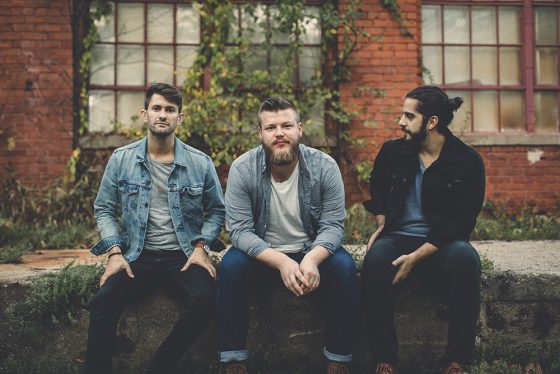 You mainly hear in sports that a change of scenery can do wonders for a player's soul and production. In music, new scenery can provide a similar stimulation. When singer-songwriter Mike McFadden decided to move from Baltimore to New York City, it started a chain reaction that also engulfed bassist Anthony Saladino and drummer Anthony Spinnato into the trio now known as Animal Years.
McFadden was a successful solo artist in his own right before he met the Saladino and Spinnato, but the trio recognized a potentially deeper musical connection as a band so they grouped up and started practicing and performing together. A McFadden solo album effort subsequently turned into the full-length Animal Years debut Sun Will Rise, and the rest they say is history.
The band recently released the Far From Home EP, which represents its first top-to-bottom group musical effort. With that out of the way, the Indie-Americana/folk rock band Animal Years was eager to unleash it unified sound to the people and was also nice enough to answer chat about the future.
I noticed bassist Anthony Saladino directed the "Friends" music video. How did the idea for the music video come about? And how was it like directing?
Saladino: I played in the woods a lot with my brother and friends as a kid. We'd make forts and trails and pretend we were on expeditions. As I got older, I've always been enamored with my perspective in those moments. The imagination you have as a kid that puts you in these other worlds in your head is fascinating to me and, [and also] romantic in a way. This song and Mike's lyrics took me back to that place.
Directing was great! The people involved really made this video what it is. From [the] choreography to [the] costume design to the very specific camera movements, everything came together perfectly, which almost felt like a coup given the time constraints and below-freezing temperatures we had to shoot in. And those kids were an absolute dream to work with in every way. Not only are they disgustingly talented dancers, but they're also super professional and way cooler than we are.
Your Far From Home EP came out a few months ago—your first eOne release. How was it making a record together as a band for the first time?
McFadden: The experience was great. We had been playing together for so long that the whole experience was really organic and felt like it wasn't our first time recording together. Both guys contribute their own unique style to our sound so the music ultimately came out sounding different than anything I've ever done. Even though l write the songs, the way they sound is a product of all of us together.
What was it like to work with producer Ryan Hadlock on the EP?
McFadden: Working with Ryan was an absolute blast. From day one we hit it off, and we immediately started to get a feel for his producing style. He was hands-on when he needed to be, but he also knew when to sit back when we were doing something he liked. Every night we would sit on the porch of the cabin after a 12-hour recording session and continue to talk about music and anything else we felt like talking about. We did that [for] six nights in a row, and they were some of the most memorable nights of our lives.
It had been three years since the Sun Will Rise LP. How would you describe where you are now compared to then, aside from moving to New York?
McFadden: During the course of touring and promoting Sun Will Rise, we built our entire team from the ground up. When we released Sun Will Rise, we had nothing; now we have management, a booking agent, publicist, publisher, and record label. We've toured the country multiple times and made our national TV debut [on CBS This Morning]. I think we've done a complete 180 from when Sun Will Rise was released.
Rolling Stone recently named you an Americana/country band to watch. What can we expect from you later this year?
McFadden: Tons of touring and getting back in the studio. We're excited to go back on the road and hit the East and West coasts as well as the Midwest and South. We're writing a ton of new songs and looking for a producer for our upcoming full-length album.
Words: Tan The Man (@dorksandlosers)
Photo: Organic Photography