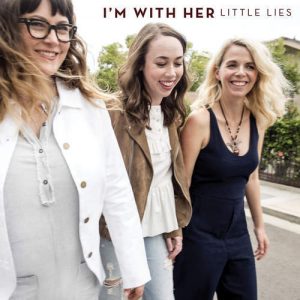 We've been waiting for what seems like ages for I'm With Her to release original music. Yet, in reality, it's only been just around two good years of its trio performing largely on one another's solo ventures and in other string jams both in the studio and on the road. Now, though, the stars have finally aligned for Sara Watkins, Sarah Jarosz, and Aoife O'Donovan to converge their brilliant songwriting skills and present us with their very first self-penned tune as the popular folk trio.
The end result is about what you'd expect – if, of course, you were expecting nothing short of spectacular. Those who know I'm With Her for their stellar covers of tunes like "Send My Love (To Your New Lover)" will largely know what to presume going in. The entire schtick of "Little Lies" remains within its ability to utterly deceive its listeners into believing that they're listening to a fairly simplistic, easily listenable tune when, in reality, only the latter of those two traits remains true.
On their debut single, Watkins, Jarosz, and O'Donovan share vocal duties. Despite their similar timbres, each is able to take on the song in their own individualistic way, injecting shreds of the vocal stylings and tricks they've picked up in their other endeavors. This goes down all whilst maintaining pitch-perfect harmonies that could've given Crosby, Stills, Nash & Young a run for their money back in the good ol' days. It's complex but accessible work that easily places the band on a level pedestal along other modern string-oriented bands like the Punch Brothers or Infamous Stringdusters, all while reinvigorating the scene with a resonant and inspiring female voice.