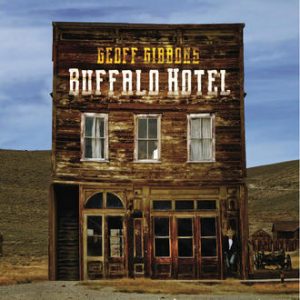 The music present on Geoff Gibbons' Buffalo Hotel fits snugly into the same corridor established by 20th century greats like Neil Young, David Crosby, and Jackson Browne. It's windswept, melodic storytelling told with just a sprinkling of pop sentiment across a genuine folkster's landscape, with resonant dobro, plucky banjo, and full, warm production straight out of the hearth ready to drive the entire package home. Indie as he may be, Gibbons still defines folk-rock at its finest, when an artist can sink into your living room couch and recount an eclectic batch of compelling stories with you for a while.
One should not be surprised that Gibbons, while not necessarily a household name himself, has still played with some of this music scene's greatest icons in the form of names like the McGarrigles, Emmylou Harris, and Levon Helm. This is a record that makes it abundantly clear that he's cut from that same cloth, after all. No longer is he just a young boy from Vancouver with a dream to follow in his hero's footsteps. Nowadays, he's cut his own rustic path forward into Americana's trajectory based all on his own gusto, and his music feels just as good as the 60s and 70s bangers put out there by his inspirations.
All in all, one would not be remiss to give Geoff Gibbons' Buffalo Hotel a spin or two to see how it suits them. Yet, for this writer, it's all as clear as can be. This is top-rung songwriting that will speak to you, especially if you consider yourself a fan of the folk-rock establishment of old. You can give the tracks a whirl over at Apple Music and Spotify or even purchase them on CD Baby. It will be some of the best $10 – $15 that you'll spend over the remainder of 2017.