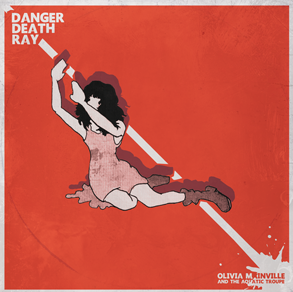 Just in time for Halloween, Olivia Mainville & the Aquatic Troupe return with a spooky new single from off of their forthcoming record. While fans of the grimly folk quartet will have to wait until next year for the entire LP, 'Danger Death Ray' is a good window into what's to come for the full-length. The band has grown exponentially since their debut release, expanding on their baroque and vaudeville influences from Maybe the Saddest Thing while adopting something darker and more adventurous, self-assured, and fun in the process.
This writer specifically calls this song a strong addition to anyone's All Hallows' Eve playlist given its thematic edge. There is something dismal and even macabre about the story told in its lyrics, wherein Mainville quite frankly seems to be falling in love with a zombie. Yet, she's so assured of that love that it's weirdly charming, in that Laika Studios or Burtonesque sort of way. It just feels like the sort of tune you'd blast in the same playlist you'd have multiple iterations of 'The Monster Mash' tossed into, and that's not a bad thing.
That's not to say it can't stand on its own outside of the season because it most certainly can. In fact, Olivia and her troupe have never sounded better. They take their outlandish vibe and they sell it like a million-dollar hotcake. It's got a certain charm and pizzazz to it; a particular authenticity that makes it innately listenable. Alongside the consummate viola of featured artist Jaron Freeman Fox, the band's mainstays carry their own and produce a very full-sounding, peculiar, delectable instance of folk and jazz that is undeniable.
All in all, 'Danger Death Ray' is a joy to listen to. The band To keep up with Olivia Mainville & the Aquatic Troupe, check them out on Facebook. The studio version of the single will fittingly be up for sale on Oct. 31, but you can hear it in its entirety via the live performance below.
https://www.youtube.com/watch?v=jk1pUffopbw