Hiss Golden Messenger has seen the light. It rings out of the darkness, borne on the wings of the folk,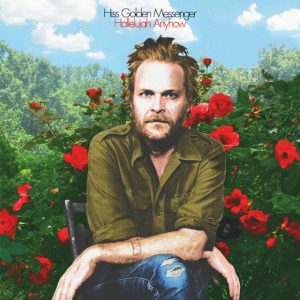 blues, and gospel tinged music that M.C. Taylor creates. He delivers with a message of hope, "Love is the only way out…and if some days that belief comes harder than others, hallelujah anyhow."
The gospel according to Mike Taylor, Hallelujah Anyhow, is a far more intricate disc than one might imagine on first listen. Throughout there are images of the battered and beaten-down but not out. On opener, Jenny of the Roses, over a guitar and piano, the answer becomes clear, "yes, I've never been afraid of the darkness, it's a different kind of light." You just have to learn how to view things.
Dylanesque harmonica haunts Out in the Darkness, while the drumming of Darren Jessee propels the proceedings, and Josh Kaufman's electric guitar rhythms provide a bed for Taylor's lyrics. The sax of Michael Lewis and Evan Ringel's trumpet prowess move Harder Rain to another level. The tandem of Brad Cook's bass and Phil Cook's multi-instrumental abilities are invaluable.
The harmonica on Gulfport You've Been on My Mind uses a minimum of notes to create a solo that tugs the heart to maximum effect. Yet at the heart Taylor's lyrics are what really drive this album into the territory of a classic. Again and again there are dark clouds on the horizon. Yet instead of being shaken to his soul, Taylor constantly holds out hope through music and love.
The sax and trumpet are also front and center on Domino (Time Will Tell) moving this tune close to the arena of a southern soul party. Caledonia My Love takes things to the other extreme. Building from an appealingly simple piano introduction, guitar and banjo take over creating the gentlest of love songs.
The album closes with When The Wall Comes Down. Taylor asks the question, "Whatcha gonna do when the wall comes down?" He also provides an answer that offers hope in these trying times, "It was built by man and you can tear it down, Tear it down, tear down. Step back, Jack, from the darkness."
Hallelujah Anyhow is gospel for tired people in modern times. And we've have never needed it more.
Words: Bob Fish