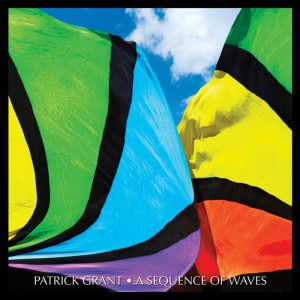 Every so often, a composer comes along who couldn't be described any better than "weird and wonderful." Tucked somewhere between the aural headspace of Led Zeppelin, the Saito Kinen Orchestra and Sonic the Hedgehog is the musical genius of Patrick Grant. On his latest LP, Grant comes across as the kind of mind that aims, to quote a song of his, "to find a form that accommodates the mess."
And that isn't a bad thing. There is a certain level of mad genius ever present on A Sequence of Waves that boggles the mind, to be certain. It has the brashness of full-on rock and roll, but that unbridled nature is married to the meticulous precision of a traditional German orchestra. That German orchestra came to the U.S. at some point and gotten some lessons in strummy, sweet melodies from Cat Stevens while they were at it, too. It may be a mess, but it has a form to accommodate that mess in Grant's newest output.
Someway, somehow, that form is brilliant. Cacophony meets symphony in a way not to dissimilar to the sorts of music that avant garde folkster Dave Menzo may push out, but Grant takes it into places all his own. There is so much sheer uniqueness to the quality of his collective work that from the get-go it's hard to understand in a way that can be easily described with words. What can be said is that it's layered, varied goodness from start to finish and one of the more ambitious experimental outings of the past year or two.
For those up for something utterly different with a bit of a folksy charm to some of the undertones present, Grant's compositions shouldn't do you wrong. You can check it all out for yourself over at his Bandcamp page.