It's here. At last! After 45 years, the legendary Bright Phoebus returns to all good record shops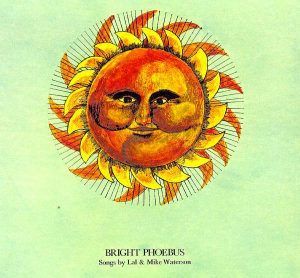 everywhere. This lovingly remastered album by Lal & Mike Waterson has remained a favourite for folk fans everywhere and an influence on artists but has remained
Lal and Mike, sadly neither of them are with us anymore, deliver 12 original songs (deeply traditional-sounding) over 37 gorgeously odd and dreamingly eerie minutes. 'Winifer Odd' – with notes of chamber music included – is a song that wouldn't sound out of place on Syd Barrett's The Madcap Laughs. The title track and closing number is a beautifully childlike song about man's relationship with nature, Mike's almost deadpan delivery being balanced out by Lal's backing harmony.
This is an album firmly aimed at folk lovers, and any newcomers will take a while to understand it's somewhat bruising delivery. Seven of the tracks are accompanied by acoustic guitar, cello, oboe and bass guitar. The sheer number of musicians that back the Watersons on these tracks is staggering at 19, reminding me of the similarly musician heavy No Roses by Shirley Collins.
And the musicians read like a who's who list of folk's finest – Richard Thompson, Tim Hart, Maddy Prior, Ashley Hutchings, Dave Mattacks, Martin Carthy, Bob Davenport, as well as numerous members of the Waterson family themselves.
'Red Wine Promises' – "I don't need no bugger's arms around me" – sung by Norma Waterson with husband Martin Carthy on sparse acoustic backing, sums up the album. The whole album was propelled by Carthy's fondness of Lal's songs which he discovered in the early stages of his relationship with Norma.
Lal's songs were originally conceived as poems and were only set to music at a later date which explains some of the more unusual musical arrangements. In his book, Electric Eden, Rob Young describes the album's alternating "shades and sunny intervals" with the unpredictability of the English weather, a balancing act resolved by returning to that title track.
It's here, at last! Let us savour. And listen again.
Words: Mark Buckley