Richard Thompson needs no introduction to anyone reading this review. As the title states, this is the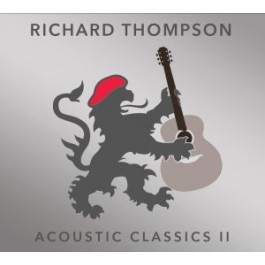 second volume of Thompson revisiting all corners of his back catalogue and setting the songs to stripped back, sparse arrangements focusing solely of guitar, voice and the occasional harmony.
This works especially well on songs that were originally rockier numbers, 'Gethsemane' (the opening track on the hugely underrated The Old Kit Bag), 'Guns Are The Tongues' (a song of death and romance set on the high seas) and 'Bathsheba Smiles' ("Do you raise you face to kiss angels?/Do you float on air to hear oracles?").
The ones that will live longer in the conscious are Fairport favourites 'Genesis Hall', nearly 50 years old and inspired by the squat-dwellers he was living with at the time and his policeman father, and 'Crazy Man Michael', the only song here from the folk rock masterpiece Liege & Lief. Special mention has to go to 'Meet On The Ledge', a song written by Thompson when he was 17 and the one that has become the unofficial Fairport Convention anthem, closing their wildly popular Cropredy Festival every year and becoming the staple final bow on tours for many years now.
In any one project should indicate the benefits of crowd funding this is the one, a stronger collection arguably than volume one (which snuck into the top ten albums in the UK briefly) and will be followed up later this year by Acoustic Rarities, an album that Thompson himself seems more excited to be introducing to the world.
Hopefully, the songs on both acoustic collections will lead people to explore the original recordings and the albums they're from. When presented in what was probably more in the way that they were first written, the songs here show what an amazing songwriter, master guitarist and under celebrated singer Thompson is.
Words: Mark Buckley