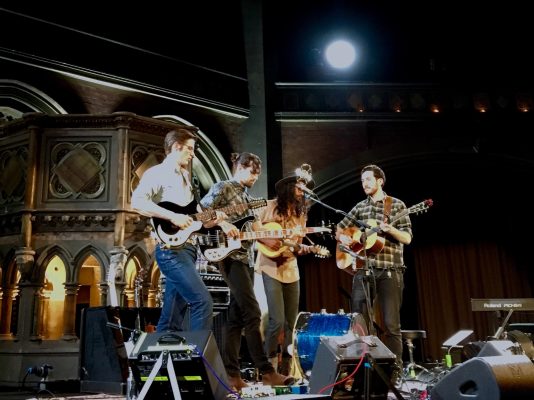 After making their international debut at the Cambridge Folk Festival last summer, Darlingside have now played in England more times than anywhere else in the past year, including their hometown of Boston, Massachusetts. This summer's tour included a quick stop at Glastonbury to play the Avalon stage, and a 1am performance for BBC 2's televised coverage. It's hard to say how much of an impact that performance had on ticket sales for tonight's show at Islington's Union Chapel, where the tour concludes, because you get the sense that a Darlingside fan will travel far and wide for a show. Tonight the pews are filled almost to the rafters, the venue nearly at capacity, resulting in the band's biggest show to date.
In support is Nashville based solo singer-songwriter Caitlin Canty. Having met the Darlingside boys when they were all studying at Williams College in Boston, she explained that they'd essentially invited their big sister on tour with them. Opening with an a cappella version of 'The Brightest Day' she caused a rare hush to take hold of the room – no small feat for a relatively unknown support act at the very beginning of a show. Displaying the sweet response of constant surprise at the end of each song, she appeared genuinely astonished to find herself on a stage that had the capacity to be met by the applause of 800 people. "You don't understand", she tells us, "we've been playing shows in what are essentially public living rooms, and this feels so, so different". And yet, with the quality of her craft – poetic, familial lyrics that make you nostalgic for a country you've never lived in, the attention to every detail of sound she coaxed from her guitar, and controlled vocals which on songs like 'Idaho' positively soared – it seems like she might have to start getting used to playing in such places.
You'd be hard pressed to find a more talented and endearing quartet than Darlingside. With an audience patter second to none, it's not long before it feels like they're old friends singing four-part harmonies about your own childhood back to you. 'White Horses' might well have started out life as an homage to cellist Harris Paseltiner's hometown of Chicago, but it's also about my hometown, and yours. Strings of mandolin, banjo, guitar, cello and bass swirl around the church with the occasional accompaniment from London based musician Tom Hyatt on keys.
Auyon Mukharji keeps to form and introduces each member of the band with dryly delivered facts about their connections to the various cheeses he's recently learned about. Did you know there are (at least) three different types of Lancashire cheese? Me neither. This is funnier than it might seem in writing. Throughout the set, band-members chip in with stories which seem to come out of nowhere but whose timing brings the audience together in laughter. Their rare combination of comic timing and musical excellence is perhaps best demonstrated in the energetic 'Harrison Ford', which comes into its own in the live performance. Canty rejoins the stage to sing a cover of Tom Petty's 'Wildflowers', also performed at Paseltiner's own wedding. There's the distinct sense of us the audience being wrapped into the family of the band and their friends. A shining rendition of 'My Gal My Guy' closes the set, but only briefly, as the audience stands to its feet and cheers until the band returns to the stage, accompanied again by Canty and Hyatt. 'Sweet n Low' is the final song of the evening, an ode to love and the all-permeating loss of it. 'No shelter from the coming storm will ever feel like home' they sing toward the end of the song, and yet, this evening has, just for a moment, been a shelter pretty close to feeling like home.
Words: Angeline Liles