Azniv Korkejian is a woman of substance. At the advanced age of 32 she is releasing what is effectively her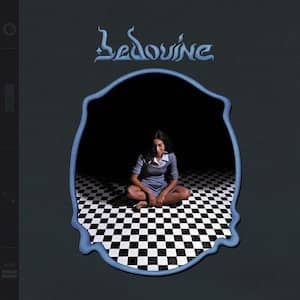 first, captivating album under the name Bedouine. Channeling everyone from Astrud Gilberto to Joni Mitchell, along with Nick Drake and Bob Dylan the album is a breath of fresh air in this summer of discontent.
Over the course of ten songs and thirty-seven minutes, Azniv Korkejian paints indelible images around a musical bed that pulls in classic sounds from the 60s, while sounding as current as today. Subtle swashes of strings dance through the air alongside acoustic and electric guitars creating a soundtrack for the warmth of the season. Yet these sounds will echo for the rest of the year. Nothing feels out of place or half-baked, every layer strikes a perfectly realized note.
Born in Aleppo, Syria of Armenian parents, Korkejian spent her first ten years in Saudi Arabia before getting a green card, wandering from Boston to Houston to Savannah, before heading off to L.A. There, she worked as a music editor for film and television. She also had a role in the recently released Judd Apatow film starring Kumail Nanjiani, The Big Sick.
'Summer Cold' recreates the sounds she heard on grandmother's street in Aleppo while tackling the U.S. infusion of arms that ended up in the hands of terrorists, all in a solemn ¾ beat. Coming from a summery place, 'One Of These Days' reflects a country-tinged Fleetwood Mac-ian dream state. Echoes of early Joni Mitchell ooze from Back To You, before horns darken then somehow seem to lift the proceedings.
'Dusty Eyes', begins like a country-western weeper, telling the tale of a relationship's ending and the flecks of color in her lover's eyes "like particles of dust in a sun beam…"
The chorus of Solitary Daughter, "Leave me alone to the books and radio show, Leave me alone to the charcoal and dancing shadow," reflects a woman comfortable with who she is, not depending on anyone else's company to make her whole.
Having only picked up the guitar in her twenties, thirty-two year-old Azniv Korkejian has clearly made up for lost time. Her work as an editor has served her well in creating an album of style and substance that defies simple description. Hers is a talent well worth watching.
Words: Bob Fish