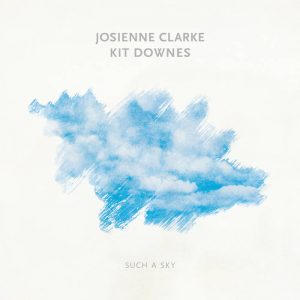 Melancholia gives way to the slightest glimpse of hope on Such A Sky, the surprise new EP from BBC Folk Award winner Josienne Clarke and former Mercury Prize nominee Kit Downes.
Though the pairing of Clarke's voice with a virtuosic musical talent shares the basic formula employed in her ongoing role as one half of Rough Trade-signed, critically-acclaimed
Josienne Clarke and Ben Walker, the recipe employs new ingredients, and the results are as different as risotto and paella. Here, Clarke's vocal is lifted by piano that is at once feather-light and stately. Downes' playing has an actorly quality. It reads Clarke's script, and puts upon it another musician's experience and emotion. As though it were a play, we experience the art twice over, through both the writer and interpreter.
It's in this duality that the melancholia familiar to Clarke's writing is able to find touches of hopefulness; an optimism is present is Downes' music, wrapping itself around the lyrics like two friends embracing. Nowhere is this felt more than on opening track 'Out Of View', which builds gently before receding into the distance, a soft dance between the two players.
Comparatively, the piano seems almost to lead on 'Beyond The Green', which tells of the walls we build around ourselves that keep us from exploring all the wonders the world has to offer. It's a song that demonstrates precisely why Clarke is one of our finest folk writers of the moment – her ability to use evocative traditional imagery to present to her audience whatever she wishes to at any given moment. It's an enviable skill, and one for which there are very few craftspeople left.
The tail end of the record sees the inclusion of two covers – albeit perhaps two of the least expected in recent folk records. First up is 'Who Will Buy', a delicate song immediately recognisable to anyone who has ever watched ITV on a Bank Holiday afternoon. The song, one of the centre pieces of Lionel Bart's popular musical Oliver!, is given a humbling, thoughtful rendition here. Clarke's delivery and Downe's rainfall piano reminds us that the song, though seemingly about a beautiful day, actually deals with the inevitably that life can't always be so idyllic.
'Do Not Delay' seems initially like something Clarke herself may have written; the grand classical flourishes in her vocals are the only real give-away that the piece is originally an
aria by Mozart. The translation uncovered by the duo seems to draw as much of folk tradition as it does on the original text, and yet could only have been done justice by a piano. It fits perfectly, too, with Clarke's self-penned coda, which recedes like the tide in your memory, long after the music has ended.
Words: Stephen Rötzsch Thomas