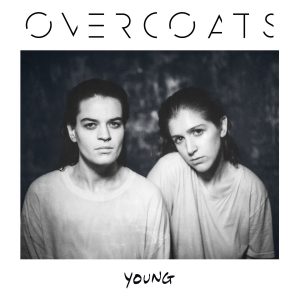 As someone who's followed New York-based folk-soul duo Overcoats for much of the past two years, listening to Hana Elion and JJ Mitchell's full-length debut Young is a tad bittersweet. On one hand, Elion and Mitchell's sound differs slightly from what I remember hearing on their self-titled EP (2015); on the other hand, the sound is more consistent and fuller as the album progresses.
In order words, Elion and Mitchell truly treated Young as a complete album, not just a collection of songs they happened to be working on at the time.
Gone is a bit of the minimalism that punctuated the duo's disarming harmonies and sharp lyrics. However, in its stead are textures that richly permeate the album's twelve tracks. Sure, many of them work well as standalone songs, but there's a satisfying comfort in the way the duo steers melodies and tones: the laid-back soul of "Smaller Than My Mother" into the slow rise ballad of "23" into "Leave the Light On" and its downtempo funk.
The duo's name comes from Elion and Mitchell's attempt to best describe their music: "Like an overcoat, [the] music is as much about the armor they create for themselves through their art as it is about the vulnerability beneath."
"So much of our hurt and anxieties in this world stems from knowing that deep down, we are alone," Elion lamented in an interview last year. "But singing these things together and empathizing with each other give us the strength and confidence to sing these things out [loud]."
Comfort is that persistent feeling throughout the album; however, at times it becomes something more lasting. Safety might be one—the album is bookended by songs titled "Father" and "Mother"—or being shielded from harm.
But there is this sense that tomorrow will be another day and things will get better. Take "Nighttime Hunger" for example. It's a bit hypnotic, a quasi-modern twist to a lullaby: "In daytime I build a new me / but still dread the night / I try to keep moving / but I can't seem to chase my monsters away / when the darkness comes." The lyrics might read like a nightmare, but the song grows into a sort of adulting battle cry with Elion and Mitchell duetting.
Words: Tan The Man (@dorksandlosers)