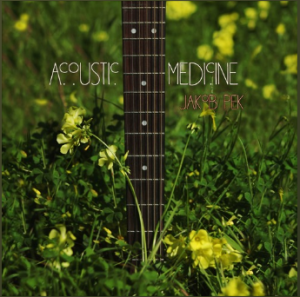 While pop radio formats would rarely allow it, the recent rise of the underground poking its way through social media has given a new audience to the oft-underrated fully instrumental stylings of modern day composers. Whether it be Kaki King or Brad Mehldau, more and more individual artists have been gaining repute for their contributions to the world of instrumental music, often with a flair uniquely attributed to our contemporary times. Such is the case of Oakland, CA-based Canadian import Jakob Pek, whose new record, 'Acoustic Medicine', released earlier this month.
Having gained the attention of music festivals across the world, from San Francisco to Peru, Pek has become known in his circles for melding traditionalism and experimentation into a singular form with his folksy acoustic compositions. Capable of consummate musicianship this side of the guitar and violin, Pek is capable of performing in any number of styles ranging as close to tradition as American fingerpicking and blues riffs to Indian rhythm and Noh theatrics. Rather than isolate these influences and set them per project to project like, say, Bridget Kearney's distinct world work on 'Bawa', Pek chooses to meld them together into a singular entity track-per-track to develop something totally him.
The end result is something earthen and atmospheric, easily setting the tune to a windswept aural desert reminiscent of his Nevadan background. Focus track "Sweet Memory's Melody" is a thoughtful reflection on life that evokes feelings of bittersweet nostalgia and reverie. The final composition present on the EP paints a pleasant picture that takes one gently soaring on a trip through the soundscape's canyons whilst invoking clear signs of his traditional American and Indian influences. All in all, 'Acoustic Medicine' is an album that lives up to its name, and one that comes as a hearty recommendation to those fans of the new instrumental movement.
[soundcloud url="https://api.soundcloud.com/playlists/315770800″ params="auto_play=false&hide_related=false&show_comments=true&show_user=true&show_reposts=false&visual=true" width="100%" height="450″ iframe="true" /]
Words by: Jonathan Frahm