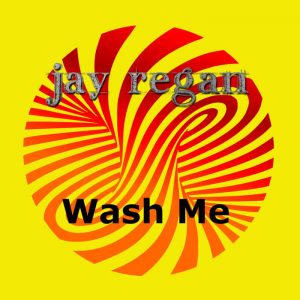 In the ever-expanding world of indie records that are far better than their cover art may imply comes Jay Regan's Wash Me. Developed with an admittedly rather captivating swirly, 70s-inspired psychedelic center, Regan's pasted-on logo and Arial font title prove that it's better to not just judge a book by its cover. I'm not knocking Regan for this, either, as it's something that I myself as an author know quite too well if you just check out some of my own published works…
Cheeky introductions aside, once you finally get going with giving Regan's record a listen, the album art is, nevertheless, actually fairly fitting of the era that the album evokes from start to finish. Wash Me is very much a 70s rock'n'roll album with hints of psychedelia reminiscent of the golden point of rock's experimental era, and it tosses in influences as far-reaching as funk and country throughout to even things out for good measure. Opening track 'Whiskey Song' proves as much, and though its production isn't the best, it features a blend of rock and country reminiscent of the driving Americana people have come to know and love artists like Jackson Browne for. There's a strong hint of something great here.
Weirdly enough, the album doesn't really dive into the downtrodden state of production that it does in its opening track anywhere else. For the most part, it is fairly well-made sonically and evokes a sunny, strummy vibe on the overarching electric that feels, again, unabashedly very spacey and 1970s-influenced. The highlight of Wash Me comes from Regan's eclectic storytelling ability, stapled together crisply and cleanly with a voice that can fairly be described as "trademark" in its composure. On the overall, Wash Me comes across as a sweet and breezy addition to any music lover's collection, so long as you can overlook some of the inconsistencies of complete self-production.
For more information, including where to buy Wash Me, visit Regan's Bandcamp page!
Words by: Jonathan Frahm