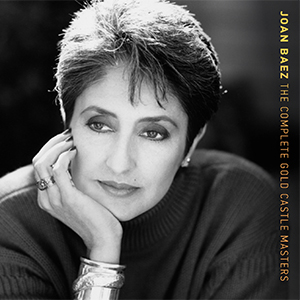 Joan Baez is an artist who needs no introduction. Often lauded as the greatest folk artist to ever grace our planet Earth—and often sparking debate with Cohen and Seeger diehards who would argue otherwise—Baez has made a name for herself for nearly 60 years as the name behind universally appreciated songs this side of "We Shall Overcome". Despite hailing from Staten Island, funnily enough, there was an eight year period during which time she had not officially commercially released a record for sale in the United States. This was until she was signed to Gold Castle Records and subsequently released an LP in 1987 in the form of Recently.
Recently came at a time when Baez was struggling to keep her repute with older fans while attempting to reach out to a younger audience with a revitalized sound. Much like Dylan went electric to expand his base, Baez went contemporary—and again, much like with Dylan, her gamble was a success. Her resonant, crystalline voice of reason still spoke to the people just as well as it did back in the 1960s and 70s, performing covers of popular 80s artists ranging from U2 to Peter Gabriel in her own trademark way.
That album, as well as her two follow-ups with Gold Castle (Diamonds and Rust in the Bullring and Speaking of Dreams), went on to become commercial successes of varying repute for the artistic activist. All three are featured on the aptly titled The Complete Gold Castle Masters released on April 7. It's an interesting peering into a unique era of Baez's life, where even as she marked herself as more focused on her music than her activism at the time, still was inundated by such songs as "China", which was inspired by the Tiananmen Square Massacre.
Make no mistake that for a sweet $16 – $30, you are making a grand purchase by opening the Gold Castle vault right back up. Baez's songs are not tunes that wilt with age and much of what she sings about across her collective works still holds relevant to this day. If you're looking to be inspired, go check out Baez's Gold Castle Masters. Hell, go check out all of Baez's work!
Words by: Jonathan Frahm